Israel urges Ukraine to curb anti-Semitic graffiti in Odessa (PHOTOS, VIDEOS)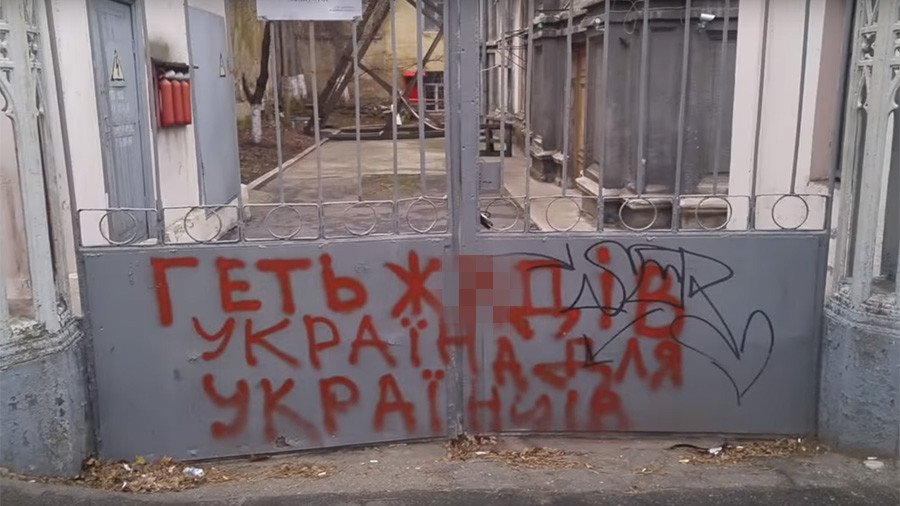 Tel Aviv has condemned "malicious" anti-Semitic graffiti daubed on Jewish institutions in the Ukrainian city of Odessa, and has urged Kiev to take "decisive measures" against neo-Nazis.
"We are gravely concerned by these expressions of anti-Semitism, and expect Ukraine's government to take decisive measures to eliminate anti-Semitic phenomena and to bring the culprits to justice," Israel's Foreign Ministry said on Twitter.
The offensive markings, spray-painted on several Jewish sites in Odessa, were discovered Monday, and pictures and videos of them promptly spread across social media. In one instance, "First toast for Holocaust!" was written on the gates of a local Holocaust Museum.
Another anti-Semitic graffiti was discovered on the gates of the Brodsky synagogue, reading: "K*kes out. Ukraine for Ukrainians." The slogan dates back to World War Two, as it was used by Ukrainian ultra-nationalists who collaborated with Nazi Germany and participated in ethnic cleansing. The building has long housed a state archive and was not used as a synagogue since the 1920s.
The third offensive example of graffiti emerged on the Beit-Grand Jewish cultural center. The graffiti reads: "Aunt Sonya won't help – the boss is Ukrainian here." All the graffiti was accompanied by the Wolfsangel symbol, widely used in Nazi Germany and popular among Ukrainian neo-Nazis today.
A similar symbol is used by the notorious Azov battalion, which is engaged in the civil conflict in eastern Ukraine, as well as by several other Ukrainian far-right organizations. Azov, however, denies the Nazi essence of their emblem, claiming it to be a monogram IN – Idea of the Nation – and not the Wolfsangel.
You can share this story on social media: