Top US aid recipient Guatemala insists Jerusalem move was 'sovereign decision'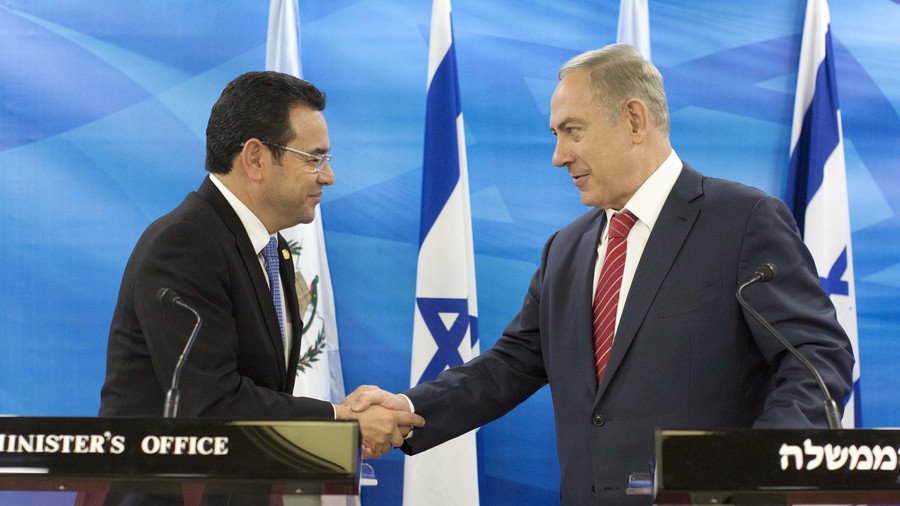 Guatemala has defended its decision to move its Israeli embassy to Jerusalem, claiming it was a "sovereign decision" that had nothing to do with foreign pressure despite it being the largest recipient of US aid in Central America.
The move to acknowledge Jerusalem as the Israeli capital was "a foreign policy decision, therefore sovereign," Foreign Minister Sandra Jovel said on Tuesday, and was made "without pressure from the United States."
"What we are doing is being coherent with our foreign policy and the ally we have been for Israel," Jovel continued, adding that there were no plans to change or backtrack on the decision.
On Sunday, Guatemalan President Jimmy Morales announced his country would be the first to follow the United States in moving its embassy from Tel Aviv to Jerusalem. The decision was praised by Israeli politicians, including Prime Minister Benjamin Netanyahu who thanked Morales personally, but drew scorn across the Arab and Muslim world.
Jovel also dismissed concerns by some officials and financial experts that the move would affect Guatemala's exports to Arab countries, which she claimed represents only 0.37 percent of the country's GDP.
"It is not an issue that should really worry us too much," she said.
Last week, the United Nations General Assembly gathered in New York to vote on a resolution condemning President Donald Trump's decision to recognize Jerusalem as the Israeli capital and move the US embassy there. Trump warned that Washington may withhold "hundreds of millions of dollars" in aid to countries which voted against the move, saying that the US will no longer be "taken advantage of", while America's envoy to the UN Nikki Haley said she would be "taking names" of any members who defied Trump's call. Nevertheless, the body voted 128 to nine to reject Washington's decision with only eight countries – including Guatemala, Honduras, Togo and several Pacific island nations – siding with America.
It is noteworthy that Guatemala has been relying on the $200 million package pledged by the United States Agency for International Development (USAID). The organization, which has been accused of promoting regime change around the world on Washington's behalf, has reported paying out $152,707,819 to the country in 2017. Neighboring Honduras is the second-largest recipient of American aid in the region.
In any case, Israel and Guatemala also enjoy a strong relationship dating back to 1947, when the Guatemalan ambassador to the UN, Jorge Garcia Granados, played a key role in lobbying for the UN Partition Plan for Palestine which created the state of Israel. Guatemala's original embassy in Israel was also in Jerusalem until 1980, when Israel declared it the capital.
During Guatemala's brutal civil war in the 1980s, the Israeli military helped provide weapons, training and logistics to Guatemalan forces, which carried out mass killings of indigenous peoples under the guise of battling a left-wing insurgency. Morales' party, the National Convergence Front, was founded by a group of ex-army officers who have been accused of involvement in these war crimes, while Morales himself is an Evangelical Christian who strongly supports Israel.
You can share this story on social media: