Gang members seize control of notorious prison, raid booze from warehouse next door (VIDEOS, PHOTOS)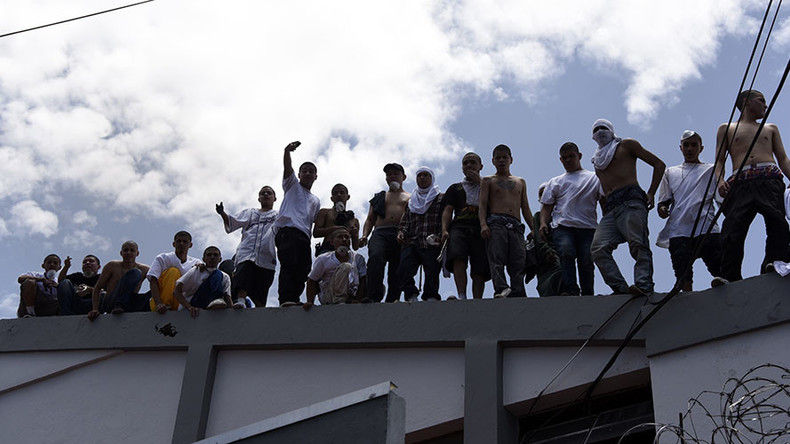 Two prisoners died and two are still on the run after a riot at a juvenile correctional facility in Guatemala City which began in the early hours of Monday morning.
The riot reportedly began at 'Las Gaviotas' correctional facility when two prisoners were found having apparently committed suicide by hanging, according to National Civil Police spokesman Jorge Aguilar, as cited by the AP.
The 'Gaviotas' facility is notorious for violence as it houses members of two major rival gangs, Barrio 18 and MS13.
The prison is designed to hold 250 inmates but, at last count, housed as many as 460, many of them adults.
The prisoners called for better conditions and better food, and entrenched themselves on the roof of the facility and several adjacent buildings.
The prisoners raided a neighboring warehouse storing alcoholic beverages which the inmates then used as projectiles to keep authorities at bay.
Family members who tried to calm the situation were kept at a safe distance by police who responded to the inmates with tear gas and eventually brought the situation under control after a tense stand off.
Four inmates were injured and brought to hospital when part of the roof they were standing on collapsed, William Gonzalez spokesperson for the Guatemalan Volunteer Firefighters said. Up to 50 were arrested after entrenching themselves on the roof of a neighboring building.
A total of 10 prisoners initially escaped but only six were recaptured by police following a chase through surrounding neighborhoods.
The official police report in the aftermath claimed that up to 300 prisoners assumed control of the facility at the height of the riot, according to Solo Noticias.
Last year, there was another riot at the facility in which the prisoners held guards captive with a view to gaining conjugal visits, reports La Patilla.