New US sanctions on Moscow would 'make Cold War look like child's play' – top Russian banker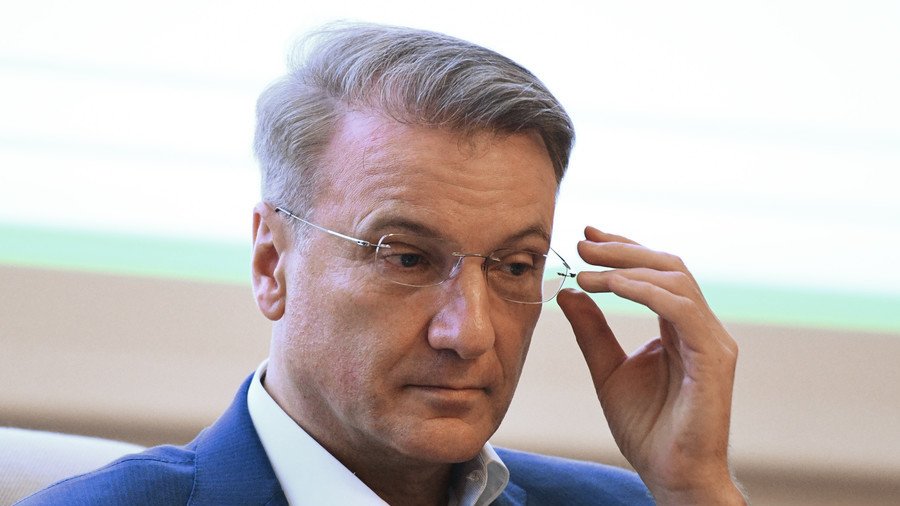 A further tightening of anti-Russia sanctions, reportedly being considered by Washington, would have such a devastating effect that the Cold War rivalry would pale in comparison, Sberbank CEO Herman Gref has warned.
New, potentially far-reaching US sanctions against Moscow would "make the Cold War look like child's play," the CEO of Russia's largest commercial bank told the Financial Times. He called such measures "irrational."
The banker referred to the potential exclusion of Russian banks and corporations from the SWIFT payment system – the global network of secure financial messaging services. Such a move has allegedly been considered by western politicians ever since the US and the EU initially imposed sanctions against Russia in 2014.
It's now been reported the US Treasury Department is preparing a new document on what's termed "parastatal entities" close to Russian President Vladimir Putin, which include state entities as well as enterprises owned by Russian oligarchs. The US Treasury is expected to present its report to US Congress as early as February 2018, the Financial Times reports.
Early in August, the US passed legislation imposing new economic sanctions against three nations, including Russia, which virtually made it impossible for President Donald Trump to lift any restrictions introduced against Moscow without congressional approval.
The law also targeted Russian banks and energy companies. Under the current restrictions, Russian banks cannot raise debt on Western markets with a maturity of more than 14 days.
The act specifically states that the US will "continue to oppose the Nord Stream 2 pipeline given its detrimental impacts on the European Union's energy security, gas market development in Central and Eastern Europe, and energy reforms in Ukraine." The move, however, alarmed US allies in Europe, which even considered reciprocal measures in case the new sanctions would harm European companies working in partnership with Russian-EU energy projects.
Moscow and Washington are also engaged in a bitter row over Russian diplomatic property seized by the US in late 2016 following claims that Russia had a hand in the US presidential election. It began with the expulsion of 35 Russian embassy staff by outgoing US president, Barack Obama, in late December, 2016. Obama further ordered the closure of two Russian countryside vacation retreats in Maryland and New York.

In August, Moscow instructed the United States to cut its diplomatic staff in Russia by more than half, to 455 people, so as to match the number of Russian diplomats in the US, after Congress unanimously approved new sanctions against Russia.


Washington responded with more hostile action in September, shutting Russia's consulate-general in San Francisco, as well as its trade missions in Washington and New York. US security services also searched both diplomatic compounds. Moscow said this was in "violation" of international law, and that the properties were simply "occupied."
You can share this story on social media: