'FSB trap' conspiracy around Snowden's app forces Greenwald to lecture Guardian's new Moscow chief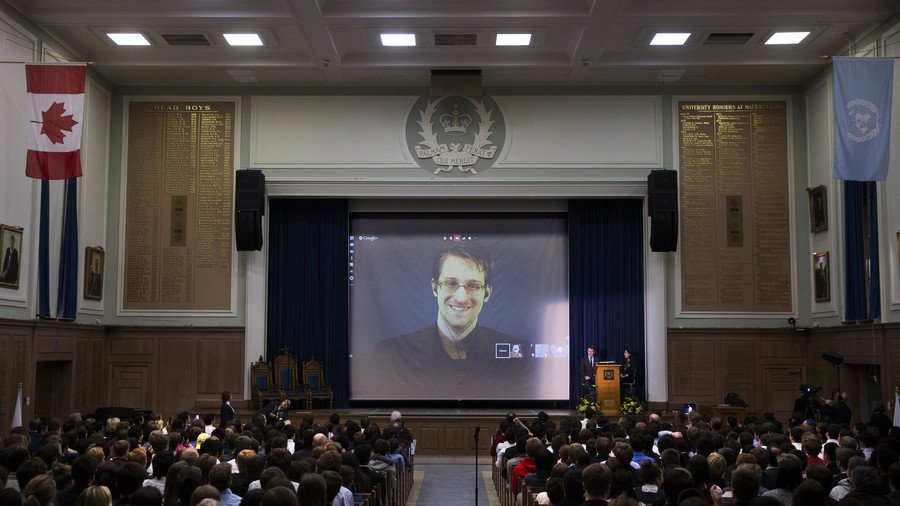 Journalist Glenn Greenwald has schooled the Guardian's newly appointed Moscow bureau chief after he "accidentally" joined a chorus of hysteria which mocked Edward Snowden's new security app as an "FSB trap."
Continuing in the vein of MSM coverage of Russia, journalist Andrew Roth was quick to jump on the bandwagon after a tweet by the Russian Embassy in Canada highlighting Edward Snowden's new app 'Haven' was trolled.
READ MORE: Snowden's Haven app turns smartphone into anti-spy sentinel (VIDEO)
"A Russian embassy touting an RT article about a security app advertised from an undisclosed location by Snowden," tweeted Roth, who most recently worked as the Washington Post's Moscow Bureau reporter, and was revealed as the Guardian's new Moscow Bureau chief earlier this week.
His comments was quickly taken to task by The Intercept's Glenn Greenwald, who originally broke the story of Snowden's NSA leaks for the Guardian in 2013, before leaving the newspaper later that year.
Greenwald pointed out that WAPO is among a number of US news outlets, including the New York Times and Politico, that already uses and promotes Secure Drop – an application designed to encrypt communications and obscure a computer's IP address. The system is maintained by the Freedom of the Press Foundation of which Snowden is president.
Greenwald continued in a second tweet that "the super clever in the know journalists mocking the new Snowden app because RUSSIA! are revealing ignorance."
READ MORE: Guardian engaged in 'journalistic fraud' in Assange interview rewrite – Greenwald
He highlighted that the app was open source and reminded the scorned journalists in question that although the NSA whistleblower has asylum in Russia, he is often critical of its politics.
Roth quickly backtracked, clarifying he was "poking fun at the optics of those tweets but should have been more careful."
He stated he had nothing against 'Haven' and admitted he could see himself using it at one point. 'Haven' is described as a "personal security system" for journalists and human rights defenders.
Engaging in further discussion with Greenwald, Roth continued that "surveillance was a priority for RT" but said he was "wrong to suggest the app was compromised because of that."
Speaking of his appointment with the Guardian, Roth said in a statement, "Amidst the extraordinary accusations of Russia's meddling in foreign elections and the ongoing war in Ukraine, the goal here remains the same: providing coverage that tries every day to hold those in power to account."
You can share this story on social media: