Real life 'Magneto'? Metal sticks to stomach of Syrian boy in bizarre trick (VIDEO)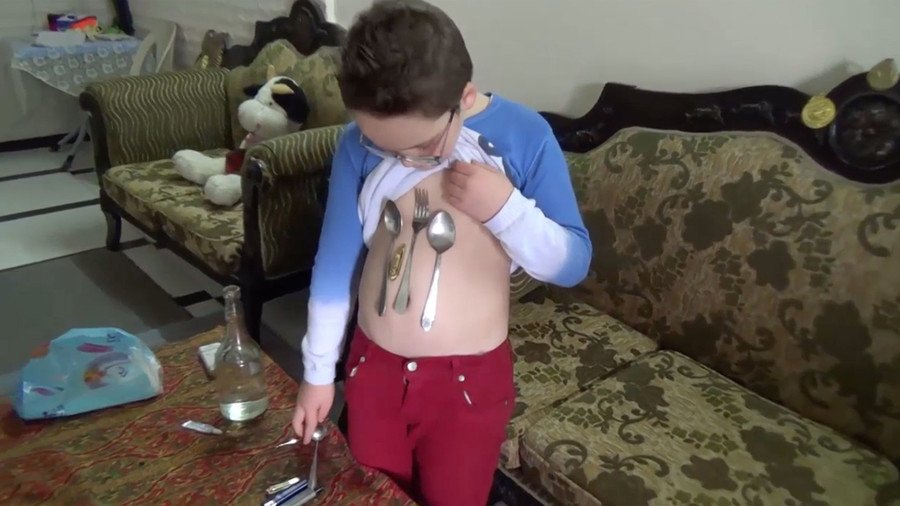 Every superhero has a moment when their special powers becomes clear. For web-slinging Spider-Man, it was after a radioactive arachnid bite. In Zulfikar Ibrahim's case, he found out his belly doubled as a magnet during dinner.
Hailing from Syria's port city of Latakia, the young boy has become something of a mini-celebrity for his seemingly strange ability to stick metal objects to his stomach. His grandparents are hoping his apparent condition can be studied abroad to get to the bottom of his mysterious "magnetism."
READ MORE: World's 1st robot citizen wants her own family, career & AI 'superpowers'
"We were concerned about this phenomenon. Speaking frankly, I don't want it to affect him," said Zulfikar Ibrahim's grandfather. "Since Russia is specialized in this subject, we want this phenomenon – or this biological energy – to be cultivated and studied in Russia."
In 2014, Russian schoolboy Nikolai Kryaglyachenko made headlines when he claimed an electrical accident left him with powers of human magnetism. Hence, the belief that Russian specialists may have some insight into Ibrahim's new found skills.
Ibrahim said he was eating at home when he dropped his cutlery and it stuck to his body.
"We were eating, the spoon fell, I picked it up but it stuck onto my belly. I was astonished," he said. "My grandfather took off the spoon, wiped it and put it again on the tray. I took a fork and a spoon, and they stuck [onto my stomach] again. Everything made of iron was sticking. I was astonished. I searched on YouTube with my aunt… and I got to know that there were other magnetic boys."
READ MORE: Inventor shows off homemade 'Iron Man' suit in flight over harbor (VIDEO)
There have been a number of cases where people claim magnetic powers. However, there is a belief that those displaying the X-Men-like abilities are really just experiencing friction between their skin and other objects.
Whatever the true reasons for Ibrahim's "magnetic" stomach, the footage of his alleged superpowers is pretty bizarre.
You can share this story on social media: