Civilians killed in Aleppo shelling as people celebrate anniversary of liberation – reports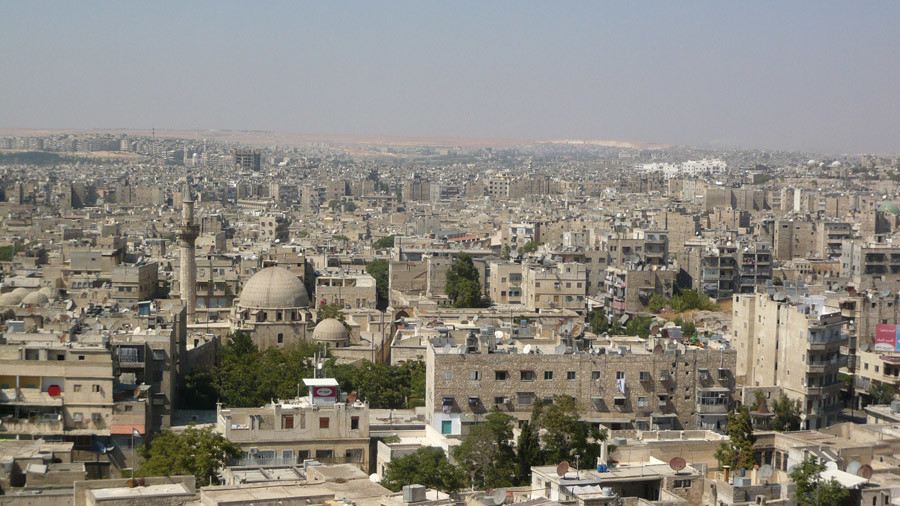 Civilians have been killed after Aleppo came under artillery and missile shelling amid celebrations of the first anniversary of the Syrian city's liberation, state media report, citing police.
Militants targeted the densely populated southwestern part of Aleppo on Thursday, killing and injuring at least six people, SANA news agency reports, citing police sources. Two girls aged six and 13 were apparently killed, it adds. Artillery and missile strikes came amid mass celebrations in the city, marking a year since its liberation.
READ MORE: US-led coalition violated intl law in Syria by failing to protect civilians – UN report
The attack was reportedly launched from the western Al-Rashiddeen suburb, which is still partially controlled by militants. It remains unclear which militant group conducted the strike.
Aleppo, once Syria's largest city, was liberated in December 2016 from various jihadi and militant groups following a large-scale offensive by the Syrian Army and its allies. Russia has aided the military push with airstrikes. Prior to the operation, the city was divided into two roughly equal parts: the western part was defended by government forces, while the eastern part was occupied by militants with a strong presence of Al-Nusra Front terrorist group.
The offensive caused militants to flee Aleppo, while hardline jihadists shelled government-controlled residential areas and tried to prevent civilians from escaping through humanitarian corridors created with the help of Russia's Reconciliation Center in Syria. Civilians were eventually evacuated, while the remaining militants agreed to a Damascus-organized evacuation along with their families.
Many refugees have returned to the city to rebuild peaceful life since its liberation, but the threat remains as jihadists and militants still control the western suburbs of the city, and occasionally unleash artillery and missile fire on residential areas.