Putin: Foreign intelligence agencies trying to meddle in Russia's internal affairs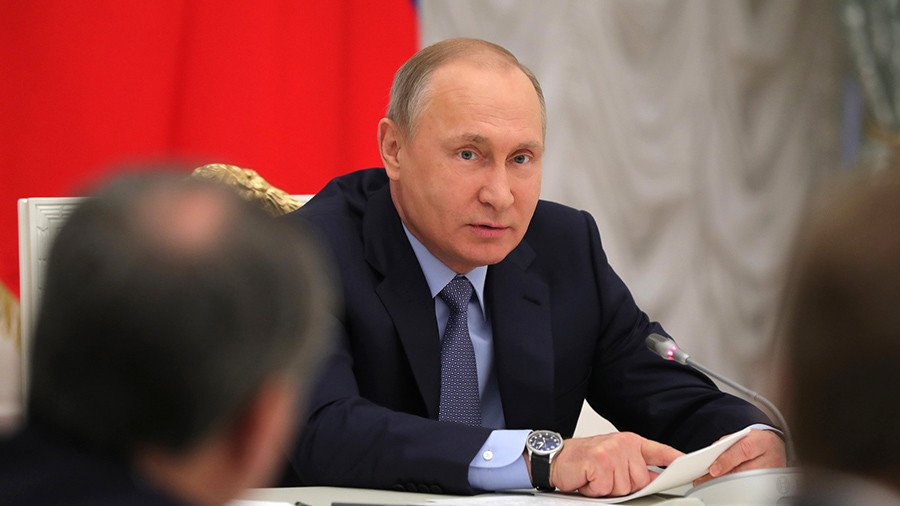 Vladimir Putin has urged Russia's security services to "erect a safe barrier" against foreign interference in the country's society and politics, ahead of the presidential election next year.
"There is a great responsibility on the intelligence services to erect a safe barrier against external meddling in our social and political life, and to counteract the work of foreign security agencies, which are doing all they can to ramp up their level of activity in Russia," the Russian president said during a speech to security and intelligence personnel, who mark their professional holiday on Wednesday.
Putin, who himself was in the security services before entering politics, also urged officials to "fortify the internal and external frontiers" in the fight against terrorism.
"Agents must work to destroy the financial and recruitment networks, and to prevent radicals from influencing youths, and spreading the ideology of hate, intolerance, and also aggressive nationalism," he said.
Earlier this year, the Russian president said that up to 7,000 citizens from the former Soviet Union, predominantly from the Muslim regions in the Caucuses and Central Asia, had flown to Syria and Iraq to join Islamic State (IS, formerly ISIS). Since the organization's military collapse, some are thought to have traveled to Russia.
On Sunday, Vladimir Putin called US President Donald Trump to thank him for US help in foiling an Islamist plot to attack prominent public targets in St. Petersburg, which was prevented when several suspected terrorists were arrested last week, and their bomb-making workshop was discovered.
You can share this story on social media: