Israel will no longer take part in 'ping-pong' game of rocket attacks with Hamas - defense minister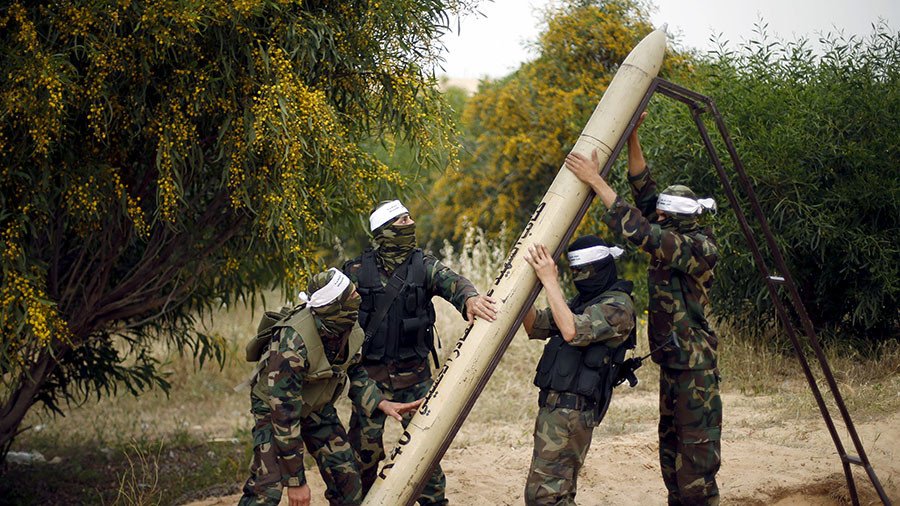 Israeli Defense Minister Avigdor Lieberman says Tel Aviv will no longer allow a game of "ping-pong" rocket exchanges to take place with Hamas.
"In the next few months all existing tunnels will be blown up and destroyed" by new technologies invented by Israel, Lieberman said during an interview with RTVI, adding that Israel is aiming to put an end to the "ping-pong" of rocket exchanges.
His comments come amid increased tensions between Israel and Palestinians - who are supported by Hamas - after US President Donald Trump's official recognition of Jerusalem as the capital of Israel.
According to Lieberman, Hamas is solely responsible for the escalating violence in the Gaza Strip and argues that a large-scale attack from Hamas is inevitable, stating that "should Hamas be faced with the alternative of losing power or attacking Israel, without a doubt, Hamas will choose another conflict with Israel."
The defense minister also claims that Turkey has been tacitly supporting Hamas, and that "we should revisit all our ties" with Ankara, to sever any dependence from Turkey and to discontinue a proposed gas project with Ankara which would give a "key to our whole gas pipeline" and Israel's energy security to Erdogan - a situation which would have "far-reaching consequences."
Lieberman also believes that the previous rapprochement with Turkey was a mistake, as Turkey cannot be trusted. He said he does not "believe a single word from Erdogan," who has been issuing threats and uses all possible pretexts - such as Trump's Jerusalem decision - for open hostility towards Israel.
During a 57-member meeting of the Organization of Islamic Cooperation (OIC) in Turkey, Erdogan called for the end of Israel's occupation of the Temple Mount and East Jerusalem, threatening to open a Turkish Embassy of Palestine in Eastern Jerusalem. Lieberman responded to those threats by saying "the status of Jerusalem as capital non-negotiable" and that the issue was closed.
Tensions between Israel and Hamas have particularly escalated following Trump's Jerusalem decision, with the Palestinian militant group calling for a third intifada, or uprising. "The Hamas movement has called on the Palestinian people to face the Israeli occupation and adopt the blessed intifada option against it and against the American decision on Jerusalem," Hamas spokesperson Abdullatif Al Qanoua told RT.
Last month, the Israel Defense Forces (IDF) staged an attack on Hamas positions in the Gaza Strip, using tanks and fighter jets. It claimed the move was in retaliation for the mortar shelling of an Israeli outpost by another militant group. Six Palestinian militants were killed in October, when IDF forces blew up a tunnel stretching from the Gaza Strip into Israel's territory.
Meanwhile, as the US stands by its ally Israel, others in the international community have slammed Trump's decision to recognize Jerusalem as capital of the Jewish state. The UK's UN envoy said that Britain "disagrees" with the move, while France said it "regrets" Trump's decision. German Chancellor Angela Merkel said Berlin "does not support" the move, while EU foreign policy chief Federica Mogherini said the EU would continue to recognize the "international consensus" on Jerusalem.
You can share this story on social media: