Palestinians & Israeli forces clash in Friday prayers protests (VIDEO, PHOTOS)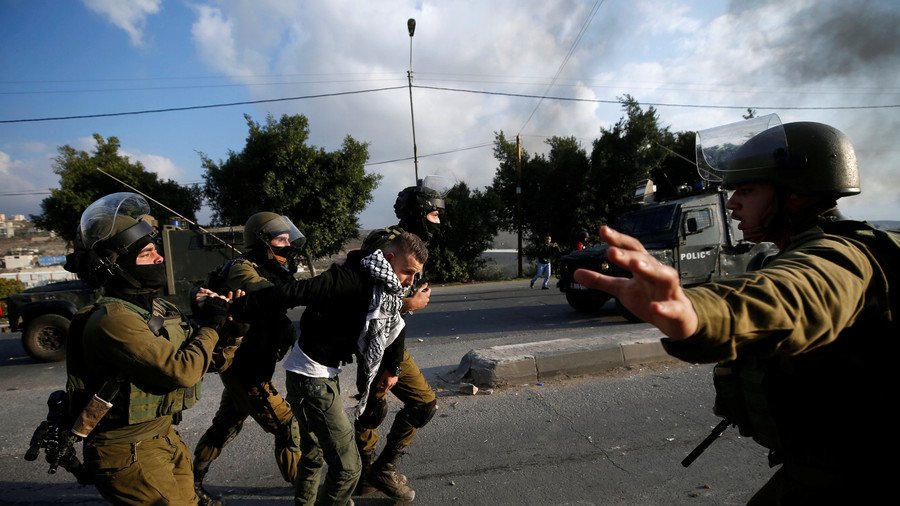 Violence has broken out across Jerusalem and the West Bank as protests continue over US President Donald Trump's decision to recognize the holy city as Israel's capital.
READ MORE: Israeli infiltrators launch surprise attack on Palestinian rally (VIDEO, PHOTOS)
It's the second consecutive Friday that clashes between Palestinians and Israeli security forces have followed the end of Muslim prayers. One man was reportedly shot after stabbing an Israeli border police officer near Ramallah. The officer sustained minor injuries, according to Haaretz.
Initial report: An assailant attempted to committ a stabbing attack against the Border Police force in the Judea and Samaria Square in Ramallah

— IDF (@IDFSpokesperson) December 15, 2017
During a scuffle with Palestinians in East Jerusalem, a member of the Israeli security forces appeared to punch a woman, who had reached for his face, in the head.
Images posted to Twitter by Jerusalem Post reporter Udi Shaham show increased security ahead of a large protest around Damascus Gate, the entrance to Jerusalem's Old City. In Bethlehem, protesters were pictured throwing rocks at Israeli soldiers who returned fire with rubber bullets and tear gas.
Hundreds of people also protested at the al-Aqsa Mosque in Jerusalem, the third holiest site in the Muslim world. Elsewhere, thousands gathered in the Jordanian capital of Amman, with local television reportedly airing footage of the protests live.
READ MORE: 'Netanyahu is calling shots as US beats drums of war vs Iran' – CIA veteran
Sumisha Naidu, Malaysia correspondent for Channel News Asia, tweeted images of protesters heading to the US embassy following Friday prayers in Kuala Lumpur.
You can share this story on social media: