80,000 protest Trump's Jerusalem recognition in Indonesia (VIDEO)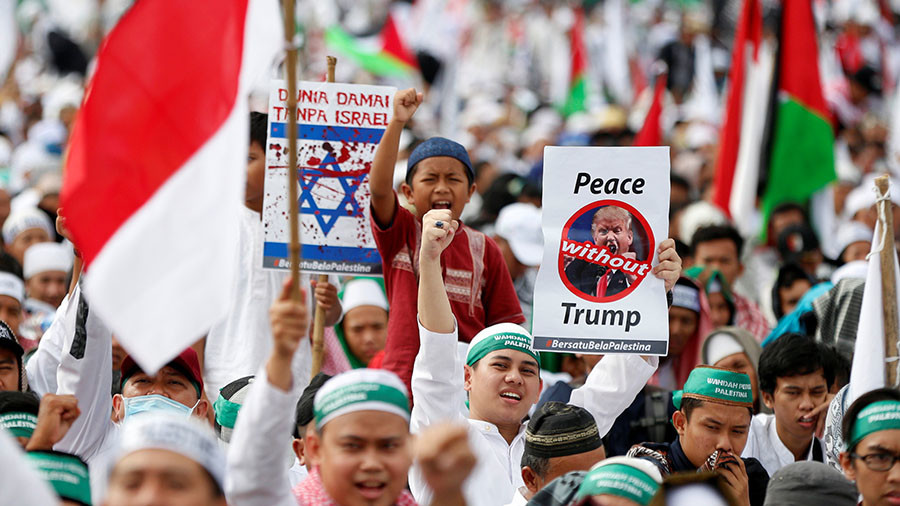 Around 80,000 people took to the streets in the Indonesian capital, Jakarta, on Sunday to again decry US President Donald Trump's decision to recognize Jerusalem as the Israeli capital.
The protest, which was organized by Indonesia's senior Muslim clergy, began in front of Jakarta's central mosque. The people, many of whom arrived from outside the capital, then marched towards the US embassy.
The event was peaceful as 20,000 police officers were deployed to provide security. The demonstrators carried Palestinian flags and banners condemning Trump for his move. Many in the crowd were wearing Muslim robes and jointly held prayers, Al Jazeera reported.
During the protests, Anwar Abbas, the General-Secretary of Indonesia's top Muslim clerical body, the Ulema Council, called upon the protestors to boycott American and Israeli products if the US recognition of Jerusalem as the Israeli capital isn't reversed.
It was the fourth and largest protests in the country since Trump's announcement last Wednesday. Indonesia, which has the largest Muslim population in the world with 225 million, has been a longtime supporter of Palestinian independence and critic of Israeli occupation.
READ MORE: Muslims may lose Mecca if they fail to hold on to Jerusalem – Erdogan
The US move led to days of violent clashes between protesters and Israeli security forces in East Jerusalem, the West Bank and Gaza, which resulted in several fatalities and over 1,000 injured. Thousands also took to the streets to protest and burn US flags in Jordan, Iran, Egypt, and elsewhere across the Muslim world.
The US initiative to recognize Jerusalem faced widespread international condemnation. The leaders of France, Germany and other European nations have all agreed that the US move was dangerous and harmful to the Israeli-Palestinian peace process. Earlier this week, the Organization of Islamic Cooperation (OIC) held an emergency summit, during which the 57 member countries acknowledged East Jerusalem as the capital of the Palestinian state.