Just like sci-fi: Robots to greet travelers in Tokyo Airport (VIDEO)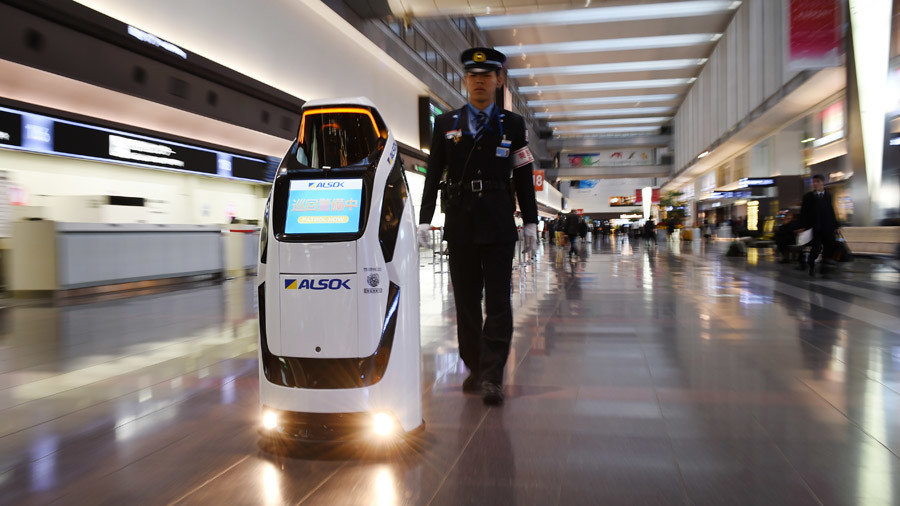 Futurama may be just three years away, as a Tokyo airport is set to deploy a fleet of robots to welcome foreigners arriving for the Summer Olympics in 2020.
Haneda Airport will be hopefully "scattered with robots" by 2020, according to Japan Airport Terminal manager, Yutaka Kuratomi, who spoke with AFP. On Tuesday, the airport presented seven new machines, designed to perform various tasks, from moving the luggage to helping with translation.
"While we appreciate skilled workers, we will proactively use robots for simple tasks in areas where we can promote efficiency by using robots," Kuratomi said.
One of the assistants, a fluffy catlike robot, can interpret in four different languages at a time, displaying the translation on its "face" screen. Another artificial intelligence robot can guide travelers through the airport. Resembling a character from Wall-E, a robot, named Cinnamon, will also be offering its assistance.
The sight of people communicating with the electronic helpers will be "normal," Kuratomi believes, with tourists having a chance to meet them during a trial month starting on January 9.
READ MORE: Robots are getting alarmingly better at human tasks (VIDEOS)
"We want foreign tourists to think that the Japanese people are cool when they come here," he said.
With Olympics on the horizon, the government expects to attract 40 million visitors annually. Although foreigners mostly arrive at Narita Airport, Haneda is the second-busiest airport in Asia and serves the majority of domestic flights. Haneda also handles many Asian airlines, as well as flights from London, Los Angeles, Auckland or Frankfurt.