RoboCop: China's new airport security droid deters threats with cattle-prod (PHOTO)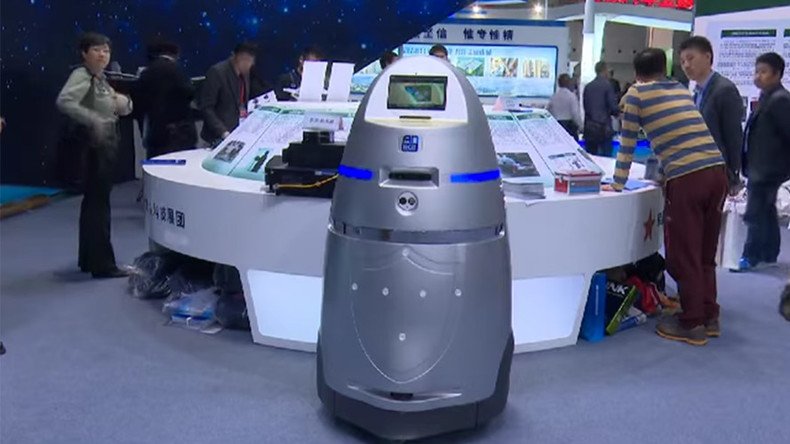 An anti-riot droid equipped with a non-lethal, electric cattle prod has officially begun patrolling a terminal at one of China's busiest airports.
Dubbed the 'AnBot', the security service machine built by China's National University of Defense Technology was first unveiled to crowds in April at the Chongqing International Tech Fair.
It has now begun 24-hour patrols at the Shenzhen International Airport in Guangdong and will beef up security in the $1.4 billion Terminal 3, reports China People's Daily.
With a top speed of 18kph (11mph), the autonomous 1.49-meter (5ft) high robot is designed to track security threats and can even disarm people with an electrical charge.
The Dalek-like machine emits a non-lethal charge from a fork-like device, which must be activated remotely by a human operator.
Other features include four face-recognition cameras and an emergency response button for calling police. AnBot will also be expected to answer passenger' questions, according to online news site China.org, provided people are brave enough to approach it.
Xiao Xiangjiang of the National University of Defense Technology told New China TV that AnBot can function to a "high degree" on its own.
"It can patrol, avoid obstacles and then charge on its own. It is equipped with non-lethal weapons… it could be a service provider," Xiangjiang said back in April.
Years ago the existence of a robot that could prevent crime was only found in film scripts or sci-fi novels.
However, AnBot has caused concern among privacy advocates, including Edward Snowden, who derided the use of the surveillance and security robot in a sardonic tweet posted in April.
AnBot is strikingly similar to Knightscope's K5 robot already in operation in the US.
Although unarmed, the "autonomous data machines" are capable of detecting security breaches and recording potential intruders.
You can share this story on social media: