Massive Pro-Palestinian protest held in Paris ahead of Netanyahu's visit (VIDEO, PHOTO)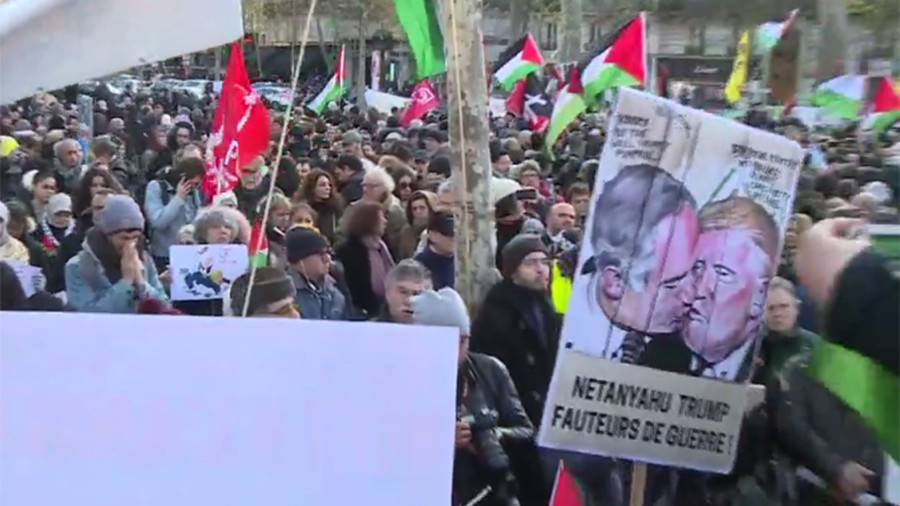 Pro-Palestinian demonstrators have gathered in the centre of Paris to protest against the upcoming visit of Benjamin Netanyahu to the French capital. The Israeli Prime Minister is due to meet French President Emmanuel Macron on Sunday.
People carrying Palestinian flags gathered in Place de la République in the capital on Saturday, as seen from photos and videos on social media. Some protestors were holding signs reading "Boycott Israel" and "Free Palestine." Others held banners saying that US President Donald Trump and Netanyahu "follow Nazi steps".
In the meantime, a much smaller group of pro-Israeli protesters also gathered in Place de la République, as could be seen on Ruptly's live video stream.
READ MORE: 'Bomb ready to blow': Muslim, European leaders slam Trump's recognition of Jerusalem
The protest was organized by a number of groups, including pro-Palestinian organizations and the Democratic Forum for Labour and Liberties (DFLL). The statement on the DFLL website calling for rallies on Saturday says that despite Macron's criticism of Trump's Jerusalem decision, the French leader is still welcoming Netanyahu to Paris. The statement goes on to call Netanyahu a "war criminal" who pursues an agenda of "deadly occupation".
Tensions are running high across the globe after Trump officially recognized Jerusalem as the capital of Israel. Massive protests have been held across the Middle East, Asia and Europe.
You can share this story on social media: