'Will you support me?' Putin teases adoring crowd before announcing re-election bid (VIDEO)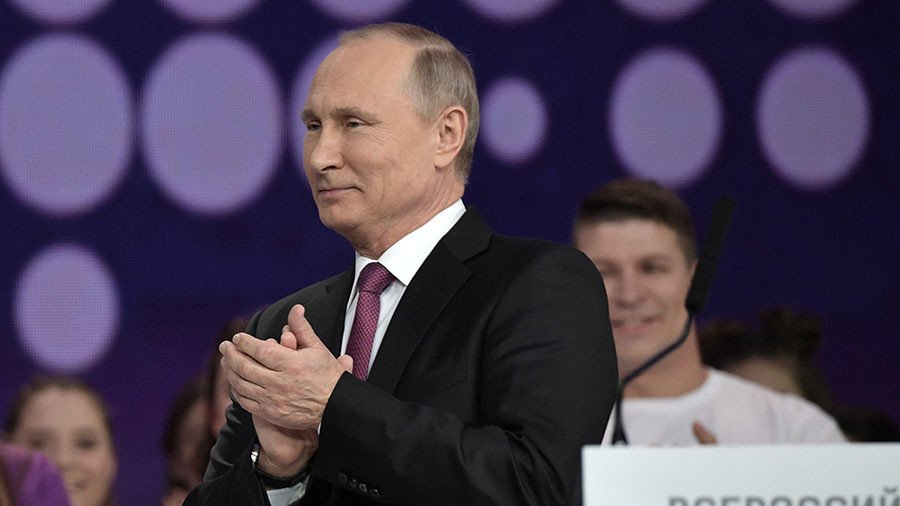 Vladimir Putin received a rapturous reaction from a Moscow crowd when asked whether he planned to run again for president, hours before he announced his nomination.
Putin was taking part a Q&A session on stage at the Russian Volunteer Forum in Moscow on Wednesday afternoon, an event for which a youthful audience of 20,000 had gathered from across the country. During one of the questions, he was asked about his plans to participate in the 2018 election.
"A person's motivation for taking such a decision can only be a desire to improve the lives of the country's citizens. And this can only be done with the people's support," answered Putin during the nationally televised broadcast.
"Will you, and those close who share your values, support me?" he then asked the crowd, to deafening cheers and an ovation.
"I understand that the decision must be made soon, and it will be, and I will remember the conversation we had here today," said Putin, who was Russia's head of state between 2000 and 2008, and again since 2012.
Although they missed out on the chance to witness the event first-hand - the volunteers did not have to wait long, as Putin revealed his candidacy later the same afternoon following another event, a meeting with car factory workers.
READ MORE: Putin announces 2018 presidential run
A poll by Levada Center, published at the weekend, showed that about two-thirds of Russians who plan to vote in next spring's election would choose Putin, with none of his rivals expected to reach double figures.
Following amendments to the constitution passed in 2008, the presidential term runs for six years, so Vladimir Putin would stay in power until 2024, but would be barred from running again for at least one term thereafter.
You can share this story on social media: