Turkey threatens to ax diplomatic ties with Israel if US recognizes Jerusalem as capital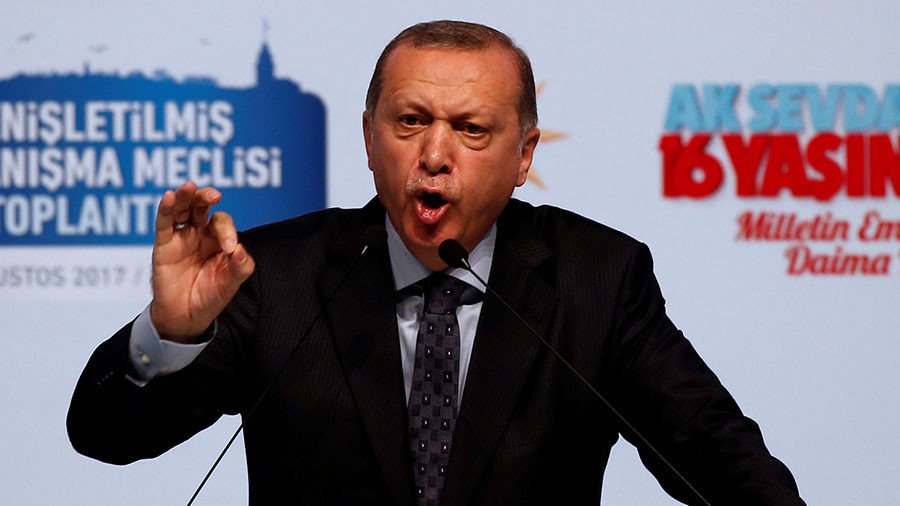 Turkish President Recep Tayyip Erdogan said Tuesday that US recognition of Jerusalem as Israel's capital would be a "red line" for Muslims. He also warned such a step would force Ankara to cut diplomatic ties with the Jewish state.
"This could go as far as cutting our diplomatic relations with Israel. You cannot take such a step," Erdogan told a parliamentary group meeting of his ruling Justice and Development Party.
The Turkish president also said he would call for a meeting with the Organization for Islamic Cooperation to oppose any move recognizing Jerusalem as Israel's capital. He said the measure would not only be a violation of international law, but also "a big blow to the conscience of the humanity."
US President Donald Trump was expected to weigh in on the sensitive foreign policy matter Monday, but public warnings from allies and private phone calls between world leaders led to the White House delaying its decision. Turkey has been a vocal critic of the proposed move.
"If the [current] status of Jerusalem is changed and another step is taken... that would be a major catastrophe," Deputy Prime Minister Bekir Bozdag said during a televised press conference on Monday, as quoted by AFP. "It would completely destroy the fragile peace process in the region, and lead to new conflicts, new disputes and new unrest."
The decision has been postponed once already by the new administration. "The president has been clear on this issue… It's not a matter of if, it's a matter of when," White House spokesman Hogan Gidley said. Israel regards Jerusalem as its capital, although the international consensus is that the holy city's status should be determined in peace talks with the Palestinians. Palestinian leaders hope to claim the eastern part of the city as their own capital.
READ MORE: Jordan, Palestinians urge emergency meetings ahead of Trump's expected Jerusalem decision - reports
Israel has long insisted that Jerusalem is its capital, but all foreign embassies are located in Tel Aviv. In October, Trump temporarily waived a law requiring the US to relocate its embassy to Jerusalem. The Jerusalem Embassy Act was passed during Bill Clinton's first term in 1995, but has been waived every six months by US presidents ever since.
Turkish-Israeli relations have faced setbacks in the past. In 2011, Turkey expelled the Israeli ambassador to Ankara and downgraded diplomatic relations after Israel refuses to apologize for the deaths of eight Turkish citizens and a Turkish-American during a raid on a ship carrying aid to Palestinians in Gaza. Full diplomatic relations were not restored until 2016. More recently, Erdogan threatened to cut ties with the Jewish state over its support for an independent Kurdish state.
You can share this story on social media: