Honduras election turmoil: 'People are in the streets like they were after US-backed coup in 2009'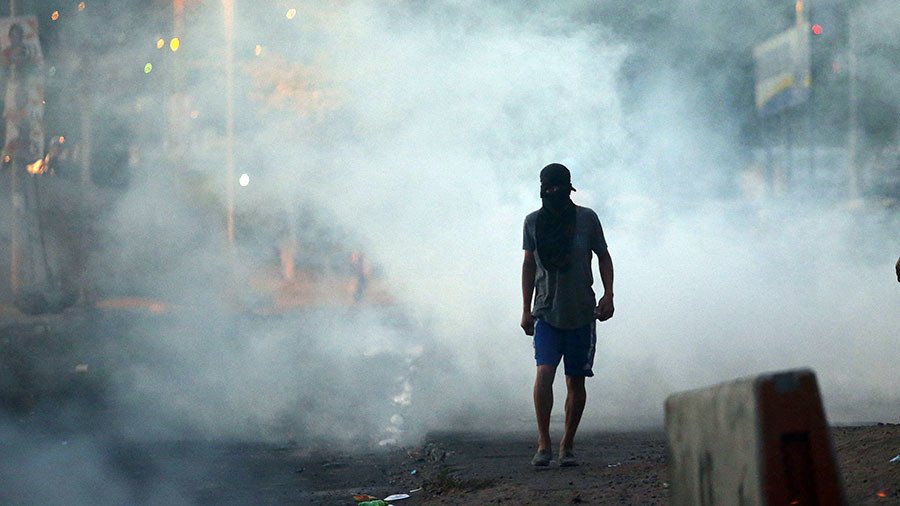 The US-educated Honduran president, Juan Hernandez, who supported a Washington-backed coup eight years ago, has been leading his country to bloodshed by cracking down on protests against the election fraud he allegedly staged, experts say.
Hernandez, who has been Honduras' president since 2014, was one of the lawmakers in 2009 to support the ouster of President Manuel Zelaya over his seeking a referendum on re-election. Ironically, now he himself faces accusations of trying to hold on to power.
An alumni of the State University of New York, Hernandez is said to have established close relations with White House Chief of Staff John Kelly, from the time Kelly was the head of US Southern Command and the Department of Homeland Security.
Now his government struggles to contain large-scale protests, akin to those that rocked the country after Zelaya's ouster, after the opposition alleged fraud in the election vote count.
The incumbent president was trailing opposition candidate, Salvador Nasralla, by a large margin in a preliminary count of the 26 November elections, when the country's electoral commission said that Hernandez was closing in on his rival.
Shortly afterwards, an alleged technical glitch caused the commission to stop publishing the results. When it announced on Friday that Hernandez was leading by 46,000 votes after some 95 percent of ballots counted, mass protest erupted. The count has been delayed since with Nasralla demanding a recount of more ballot boxes than the commission had offered.
Hernandez' government has imposed a nationwide curfew amid civil unrest following the election.
At least one protester has been killed, and 20 have been injured in the clashes. Tensions spilled over after both main candidates claimed victory in Sunday's vote.
"Honduran people have taken the streets very courageously, just as they did in 2009, when Manuel Zelaya, the democratically elected President, was overthrown in a coup," Professor of Latin American and Caribbean Studies at the City University of New York, Daniel Shaw, told RT.
The coup "was backed by Washington DC, when Hillary Clinton was secretary of state, and Barack Obama was the President, the Honduran people were in the streets for months and months to denounce this coup," he said. Shaw added that the Honduran people will "continue to be in the streets to denounce this electoral fraud."
The government has given the army and police more powers to contain the unrest – something Professor Shaw calls a "cruel military and police rule," in violation of "international law [and] of the human rights law.
"We have to see the bigger picture here, the role that Honduras has always played in Central America, as the backyard of the US," he continued. Shaw noted that the US has military bases there, which they are using "to do as they will."
The professor told RT that in Central and Latin America, "the US Embassy has been a hotbed of activity for the past few nights, where CIA officials and US intelligence officials have been exchanging plans with their top lieutenants."
People are protesting what they call suspicious delays in the vote counting, and political activist and lawyer Cristhian Mancera Mejia agrees that fraud, indeed, is possible.
"We're looking at a president in the case of Hernandez, who is trying to prolong his time in power now. If it is true that he did win the elections, I would hope for the sake of democracy and for Honduras that he comes with results soon enough so that people can understand and know who their president is, and who the new president will be," he said.
Turmoil will only grow if the uncertainty in results continues, he warned. "Hopefully it doesn't lead to more bloodshed we have learned that there are some protesters have been killed in the streets," Mejia told RT. "I think we have to calm down and offer the people of Honduras a result that satisfies not only the people, but also the region, as well.
"It seems like these leaders have not learned the lesson," Mejia said. "By not excepting the results or by telling people that they have won, when in fact they have not, or probably even by manipulating the information, they lead the population to think that there is some kind of manipulation going on, that the truth has not been told."
Unfortunately, there's no way to make everyone happy, Meija believes: "If the results are given – whether it is in favor of Salvador, or in favor of Hernandez, nobody is going to be satisfied."
The unrest is destined to repeat again and again, even should it calm down soon, says William Robinson, professor of Sociology, Global and Latin American Studies.
"This is a country in which a democratically-elected government was overthrown in 2009. There was a mass movement and opposition to that. It eventually calms down: 2010, 2011, 2012. Then there were elections in 2013. Again the opposition won those elections, according to the leading international observers, but again there was electoral fraud."
You can share this story on social media: