Russia's cruise missile-capable frigate sets sail for Mediterranean – Navy chief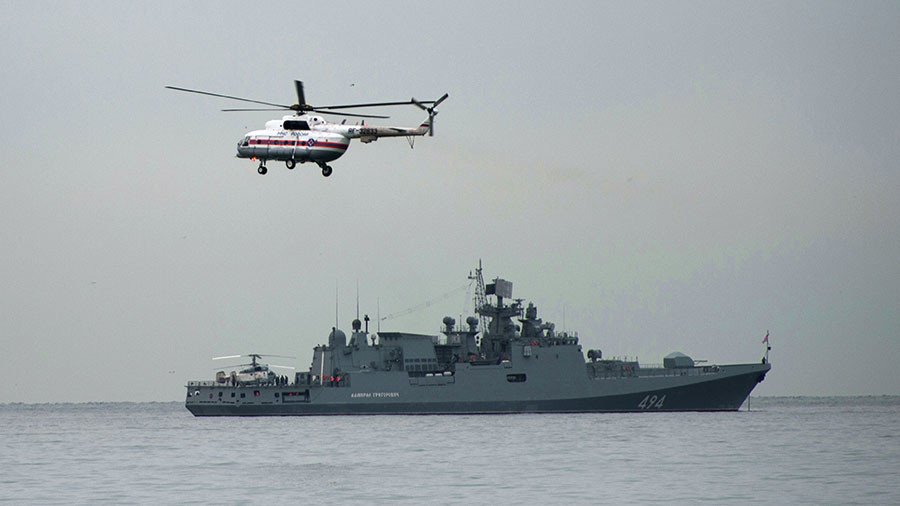 The Russian Navy's newest frigate, armed with cruise missiles, has set sail for the Mediterranean, joining two submarines already patrolling waters off the coast of Syria, a naval commander said.
Missile frigate 'Admiral Grigorovich' is heading for the Mediterranean, Admiral Igor Vitko, commander of the Russian Navy's Black Sea Fleet, told Krasnaya Zvesda (Red Star) newspaper on Friday.
READ MORE: Russian missile frigate returns to Mediterranean
Earlier in the day, Black Sea Fleet spokesman Vyacheslav Trukhachev told RIA Novosti that the frigate set sail from a naval base in Sevastopol. He said 'Admiral Grigorovich' is expected to join the Navy's task force in the Mediterranean by December 2.
'Admiral Grigorovich' is the lead ship of her class, built for the Russian Navy in recent years. It is armed with Kalibr-NK cruise missiles, Shtil-1 anti-aircraft missile system, a 100mm nose cannon, and torpedoes. The frigate is also capable of launching Ka-27 or Ka-31 helicopters from her helipad on the rear deck.
Deployed several times to the Eastern Mediterranean, the ship saw action against Islamic State (IS, formerly ISIS) earlier this year, targeting the terrorist group's ammunition depots, command centers and personnel.
In November 2016, the vessel, alongside the 'Admiral Kuznetsov' aircraft carrier, took part in a large-scale operation against IS and Al-Nusra Front in Syria, firing missiles at terrorist targets.
The news follows official statements that announced Russian military withdrawal from Syria. On Thursday, Nikolay Patrushev, the head of the National Security Council, said Russia had started preparations to downsize its military presence in the country. He did not provide a timetable for the withdrawal, saying it would commence "when ready."
Russia deployed troops in Syria following a request from Damascus in 2015, citing the threat of terrorist forces taking over the country. Russia's help allowed the Syrian Arab Army to turn the tide and secure large swaths of land previously held by the jihadists.
You can share this story on social media: