2017 'didn't look good' but 2018 will bring more wars, famine & extremism – NGO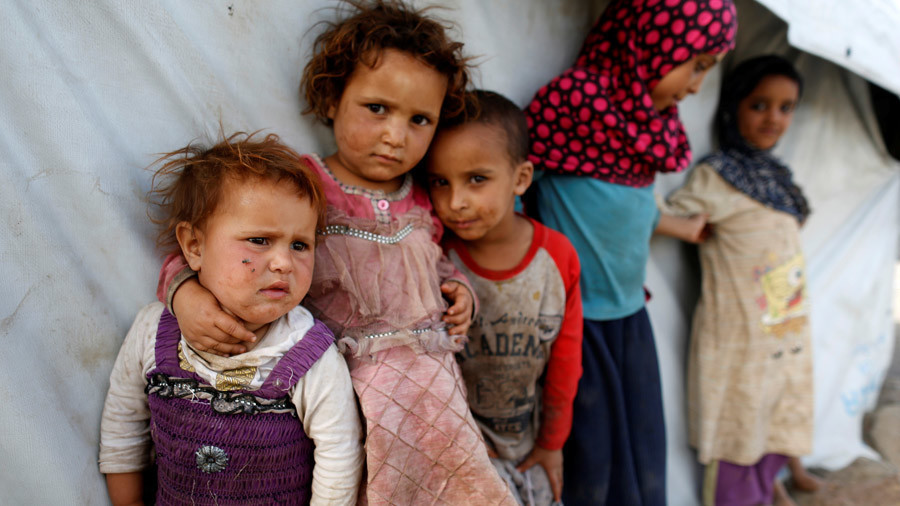 Violence and pockets of fighting in Syria and Iraq, near-famine in Yemen, and Islamic extremists steadily gaining ground in Afghanistan will make humanitarian crises around the world much worse next year than they were in 2017, an NGO predicts.
The 'Humanitarian Overview: An Analysis of Key Crises into 2018' by Geneva-based think tank ACAPS looks at major trends that will shape the face of the world next year. It specifically focuses on countries going through deteriorating or ongoing crises, including Afghanistan, Iraq, Syria, Libya, Mali, South Sudan, Yemen, Venezuela, among others.
"Across these countries, food security, displacement, health, and protection are expected to be the most pressing humanitarian needs in 2018," the researchers said. "Most humanitarian crises in this report are driven by conflict, with a spread in violence and shifts in tactics this year in several countries.
"If 2017 did not look good, predictions for 2018 are no better: violence and insecurity are likely to deteriorate in Afghanistan, Democratic Republic of Congo, Libya, Ethiopia, Mali, Somalia, and Syria next year," ACAPS Director Lars Peter Nissen wrote in the report.
Islamic extremism will also continue to cause violence and conflict in various hotspots across the globe, the study said. In Afghanistan, where there is no let-up in 16-year war against the Taliban, "the security situation is likely to continue to deteriorate in 2018 leading to greater health, food security, and protection needs."
The Islamic group is gaining ground over rural areas, particularly in the north and south of the country, as well as in territories used for opium poppy cultivation, which rose by 67 percent compared to 2016, with the production of opium rising by 87 percent.
Despite the defeat of Islamic State (IS, formerly ISIS) in its main redoubts in Iraq, the terrorist group is expected to continue fighting against the government, "shifting toward the use of non-traditional conflict strategies and improvised attacks."
In neighboring Syria, there will be pockets of insecurity, especially in Idlib, Eastern Ghouta, and Deir-ez-Zor provinces, the study predicts. The report noted that "the Astana agreements [brokered by Russia, Turkey and Iran] over de-escalation zones have been a major political development in 2017, contributing to the perception of an improving security situation in Syria."
Next year is likely to be "decisive for the Syria conflict," as any real or perceived progress in establishing de-escalation zones would change perceptions of the conflict. "This would likely affect third country policies on refugees, and potentially prompt more spontaneous returns," ACASP said.
In Yemen, ravaged by civil war and the Saudi-led intervention, "civilians are bearing the brunt of the fighting." ACASP says that over 3.3 million Yemenis have been displaced since the escalation of the conflict in March 2015, and 17 million people are estimated to be food-insecure. The conflict has also prompted aid agencies to fight "one of the worst cholera outbreaks in history affecting more than 910,000 people."
Despite all efforts, the cholera outbreak is likely to continue due to lack of infrastructure and health systems. "Continuation of the import blockade is likely to deteriorate the situation even further," it said, adding, "food insecurity is likely to get worse, and most conflict affected areas, particularly the south and west coast, are likely to fall into famine if food access does not improve."