96yo 'Bookkeeper of Auschwitz' fit to serve jail term, says court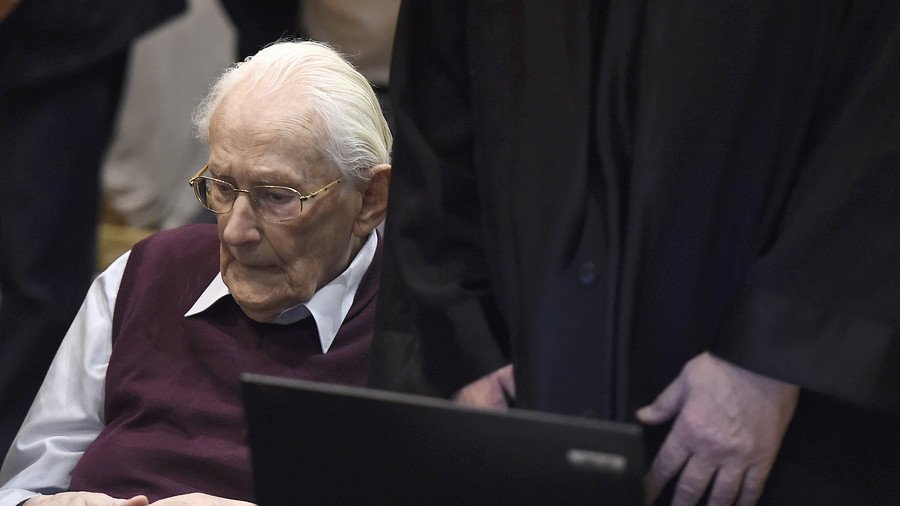 A former Nazi SS guard dubbed the 'Bookkeeper of Auschwitz' faces a four-year jail term after a German court ruled the 96-year-old is fit to serve his sentence.
Oskar Groening was convicted on 300,000 counts of accessory to murder at the Nazi death camp in July 2015 and handed down the sentence of imprisonment. The court case was considered one of the last major Holocaust trials.
Groening, however, filed an appeal for the sentence to be suspended and has been living at home despite his conviction. On Wednesday a court in Celle, northern Germany, rejected his appeal, ruling that incarcerating Groening would not violate his fundamental rights.
"Based on expert opinion, the superior regional court finds that the convicted individual is fit to serve out the term despite his advanced age," the court said.
Prosecutors, making the case for his imprisonment in August, said a court doctor had determined that Groening would be able to serve his sentence, on condition he's given appropriate nursing and medical care while in detention, AFP reported. Groening's lawyer disputed this.
Groening admitted moral guilt for atrocities at the camp during his trial, but said it was up to the court to decide on his criminal culpability. He was 21 when he was sent to work at Auschwitz as an accountant, counting money stolen from the Jews and shipping it back to his Nazi superiors in Berlin.
Although he did not kill anyone himself, lawyers for survivors and relatives of camp victims said "by sorting the bank notes he helped the Nazi regime to benefit economically." His indictment stated that at least 300,000 prisoners were put to death in the gas chambers of Auschwitz, during his time working there.
In June this year, former Nazi SS Sergeant Reinhold Hanning died a year after his conviction - without spending a single day behind bars. Hanning was convicted at the age of 94 and sentenced to five years in prison. However, he never served time due to an ongoing appeal against his conviction.
Earlier this month, two former SS officers aged in their nineties were charged with facilitating hundreds of murders at the Stutthof concentration camp during the Second World War. The unnamed suspects, aged 92 and 93, were charged as part of an ongoing investigation by German prosecutors into Nazi-era crimes during the occupation of Poland.
Six million Jews were murdered during the Holocaust carried out under Adolf Hitler. Of the 6,500 SS members who worked at the Auschwitz-Birkenau camp, only about 50 have been convicted of war crimes.
You can share this story on social media: