Canada to pay staggering $113mn to victims of 'gay purge' – reports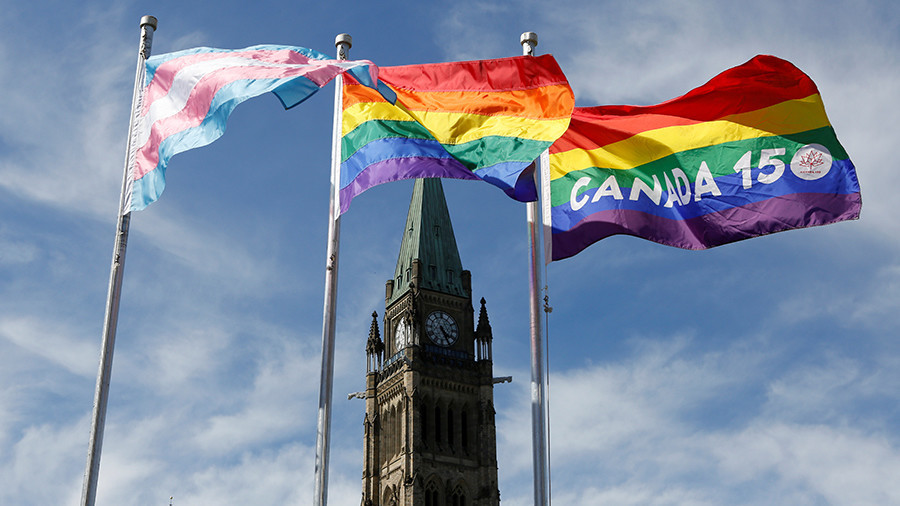 The Canadian government will pay up to $113 million to members of the LGBTQ community who were purged from public sector jobs over the course of four decades, according to local media. It is considered the largest such payment by any state worldwide.
The C$145 million (US$113.3 million) will go towards those who were cut from jobs in the federal public service, the Canadian Forces, the Royal Canadian Mounted Police, and intelligence services, according to the news outlet. The newspaper claimed this will be "the largest financial commitment by any national government for past wrongs committed against sexual minorities."
The payment is reportedly part of an agreement-in-principle reached on Friday between victims of the purge, who filed a class-action lawsuit, and the federal government. The government is also ready to pardon and expunge the records of those who were convicted under laws which criminalized homosexuality, it is reported.
Around 3,000 people may be eligible to make a claim, as many others have died following the purge, which ended in the 1990s. Some of the victims are believed to have killed themselves after having their careers ruined. The level of compensation will be determined by an adjudicator based on the degree of harm they suffered.
Funds will also go towards creating a memorial in Ottawa for victims of past LGBTQ discrimination, and on education and memorialization projects across the country. According to the Canadian Broadcasting Company (CBC), more than $100 million will be spent on compensation, while $250,000 will go towards community projects to combat homophobia and to provide support for people in crisis.
The Liberal government has vowed to offer an apology for injustices which occurred in the past, as well as pardons, following a class-action suit and a series of revelations which detailed unjust convictions and dismissals of homosexuals in the past. Prime Minister Justin Trudeau will deliver the apology in the House of Commons following question period later on Tuesday.
On November 28, the Government will offer a formal apology to LGBTQ2 Canadians in the House - for the persecution & injustices they have suffered, and to advance together on the path to equality & inclusion.

— Justin Trudeau (@JustinTrudeau) November 19, 2017
Speaking during a question-and-answer session at a social policy conference in Toronto on Monday, Trudeau said that apologies are necessary to ensure history doesn't repeat itself. "Apologies for things past are important to make sure that we actually understand and know and share and don't repeat those mistakes," he said.
Trudeau noted that although progress has been made in advancing the rights of LGBTQ Canadians, "there is still so much discrimination that recognizing it will make a big difference." He noted that "it will also help a whole bunch of people who hopefully wouldn't have to go through in their future careers the kind of discrimination that happens in the past decades."