Ultra-Orthodox Jewish protesters dispersed by mounted police & skunk cannons in Jerusalem (VIDEOS)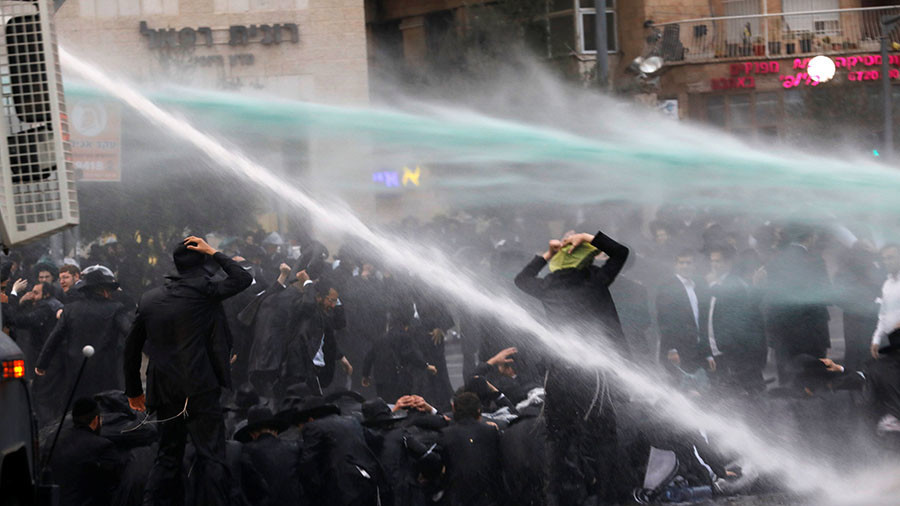 Some 35 ultra-Orthodox demonstrators have been arrested in Jerusalem during an anti-draft protest. The protesters disrupted road and light rail traffic, while the police deployed stinking water cannons to disperse the crowd.
Dozens of ultra-Orthodox anti draft protesters gathered in central Jerusalem on Sunday, blocking road and light rail traffic. The demonstrators protested against Israeli Defense Forces (IDF) enlistment and demanded release of a dozen jailed draft-dodgers from their community.
Riot and mounted police were deployed at the scene to contain the protest and unblock the traffic. The law enforcement reportedly used the so-called "skunk" cannons, which are loaded with stinking fluids instead of plain water. Some of the protesters have reportedly called the police officers "Nazis" in return.
At least 35 ultra-Orthodox demonstrators were arrested during the protests for "disrupting public order, blocking traffic, attacking civilians and police officers," according to a statement issued by the Israeli police.
The protest was called by the leader of ultra-Orthodox group The Jerusalem Faction, Rabbi Shmuel Auerbach, who promised to continue anti-draft protests to defend the "dignity of the Torah." It was violated by the "incarceration of 12 prisoners of the Torah world [draft dodgers] for extended periods," The Times of Israel quoted the statement issued by the protests' organizers.
Last Sunday, the Jaffa Military Court sentenced 11 ultra-Orthodox draft dodgers to jail sentences ranging from 40 to 90 days. The protest organizers, however, referred to 12 such detainees. The ruling prompted swift and angry reaction from the ultra-Orthodox Jews, as some even tried to set the drafting station in Jerusalem on fire last Sunday.
In recent months, the Jerusalem Faction has staged dozens of protests across the country, with the most major being held in the areas with large ultra-Orthodox populations, including Jerusalem, Bnei Brak and Modi'in Illit.
The issue of ultra-Orthodox draft dodgers is decades old in Israel. Orthodox Jews studying religious texts at yeshivas (Jewish religious schools) and Arab Israelis are exempt from the compulsory military draft, while all the other citizens must serve in the army once they turn 18. Men are required to serve for 32 and women for 24 months.
To claim the exemption, the ultra-Orthodox Jews must show up at an IDF draft point with a letter from their school. Many chose to do not so, while some religious leaders, including Rabbi Shmuel Auerbach, explicitly forbid their students to have any contacts with the Israeli military.