Bahraini cover of 'No Woman, No Cry' raises eyebrows on social media (VIDEO)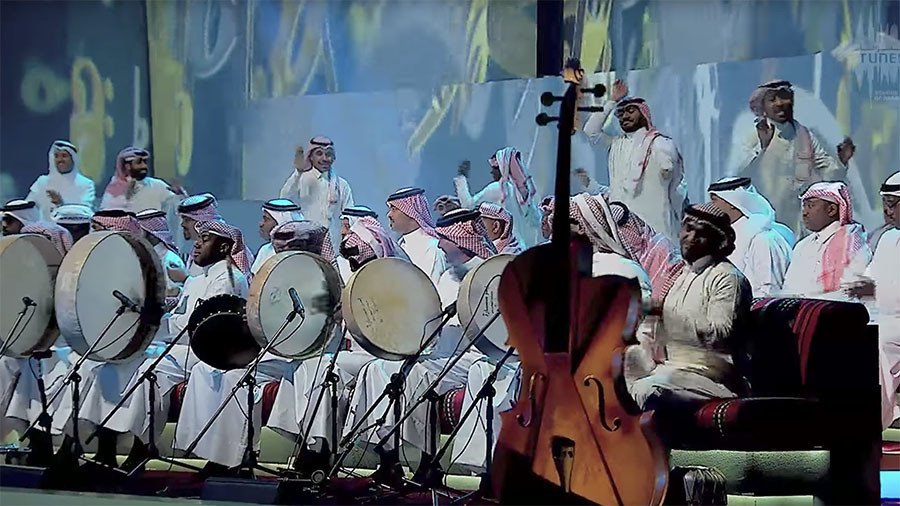 A choir of Bahraini men singing a cover of iconic Bob Marley's reggae song "No Woman, No Cry" in Arabic garments sparked mixed reactions on Twitter. Some praised the stylish remake and others pointed to the state of women's rights in Gulf monarchies.
A video of the band led by Bahraini singer Mohammed Al Bakri was posted on the Tunes Arabia YouTube channel on Thursday. The Khaleeji-style cover of the Bob Marley song shows the all-male choir dressed in traditional thobes and gowns and even some fiery dancing to the reggae tune.
The song, released in 1974 by Bob Marley and the Wailers, addresses a poor woman growing up in the Jamaican slums, promising that things will be "alright" and asking her not to cry. In Jamaican Patois, the title line is rendered "No, woman, nuh cry," where "nuh" stands for "don't."
Some Twitterati praised the cover, Al Bakri's cover calling it a "kick-ass Bahraini version" of the reggae hit, and even"the best thing I've seen all week." Others did not share the excitement saying that "things can't get any weirder."
If it was Saudi,they would've sung:"No,woman, no drive"

— Arno Brosi 🇵🇸 (@brosiman) November 26, 2017
However, there were also those appalled by the very image of Arabic men singing about the plight of a woman, with comments on the state of human rights overshadowing the fun. Some sarcastically commented that "No Woman, No Drive" would be a more fitting title for the version, while one commenter on YouTube wrote "RIP NO WOMAN NO CRY."
In point of fact, "No Woman, No Drive" is a title of an existing parody song, adapted from Bob Marley hit in 2013 by a Saudi Arabian comedian and actor Hisham Fageeh. His cover mocked the poor women's rights record of Saudi Arabia, where women were banned from getting behind the wheel till recently. Saudi women have actually been known to have driven in Bahrain while they were barred from doing so in their own country.
Despite this, Bahrain is similar to other Gulf monarchies in being ill-famed for discrimination against women and rights abuses. The country's female citizens gained the right to vote and run for office in 2002, but few have been able to make use of that right. Female human rights activists are reportedly tortured and get politically motivated prison sentences, according to the Bahrain Center for Human Rights. Last year, Bahraini women under the age of 45 were banned from going on Hajj without a male guardian.
You can share this story on social media: