'Putin-hosted summit represents major breakthrough for Syria, but obstacles remain'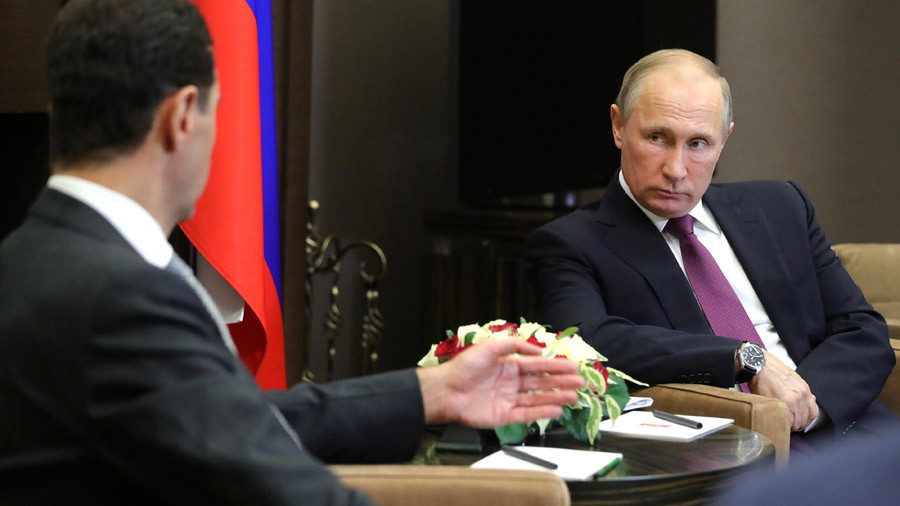 There is still much work to be done in Syria, and it is not clear if the Americans and their allies will help the process move forward, or whether they will work to impede it, Seyed Mohammad Marandi, politics professor, University of Tehran, told RT.
Russia on Wednesday hosted a three-way summit in Sochi between Russian President Vladimir Putin, Turkish President Tayyip Erdogan, and Iran's President Hassan Rouhani. The primary goal of the meeting was to find a solution for ending the civil war in Syria.
Vladimir Putin said Syria has a real chance to end its six-year civil war. At the summit in Sochi, it was also agreed to hold inclusive all-Syrian talks.
RT: How crucial are today's trilateral talks?
Seyed Mohammad Marandi: They are very important and the very fact that for the first time this process is being moved forward largely without the US and its allies, I think, is one reason why it has achieved so much. The Astana talks, as well as the current talks in Sochi, have pushed the process a great deal forward.
Of course this comes alongside the achievements made by the Syrian Arab Army, alongside with the help of the Russians, the Iranians, Hezbollah and Iraqi, Afghani and Pakistani volunteers, who've all struggled for years to push back the extremists that were funded by the Wahhabi extremists, that were funded by Saudi Arabia, and unfortunately the US, as we know from documents that have been revealed – the Defense Intelligence Agency [DIA] of 2012, WikiLeaks documents.
We know the US has coordinated the movement of extremists and bringing them into the country of Syria. Things have shifted and changed enormously on the ground, and hopefully, these talks will help to pave the way for the conflict to come to an end … It looks good on paper, but I am sure it is going to be very complicated in the weeks and months ahead.
Prof. Maged Botros, chairman of the Political Science Department, at Helwan University: "What I can see now is a breakthrough of getting the rivals to sit together. I wouldn't for a second believe that Iranians would like to sit with the Turkish side for conflicting purposes. Turkey insists that Assad has no future role, while Iran insists that Assad has a sustainable role. Now, Putin has a great political leverage of getting them together… Russia has much more leverage in Syria than the US…The US can't get all those parties because they know that what is happening now cannot be resolved – the cards are not in the hands of the US. That is why the diplomatic settlement phase will happen in Geneva, Russia or Uzbekistan, no other place. Not in Washington, D.C."
RT: How difficult will it be to implement what was agreed on today?
SMM: It will be difficult. One of the difficulties is – what about the groups that have aligned themselves and continue to be allies of Al-Qaeda? We know that many of these people have committed horrific crimes; they continue to exist, they continue to terrorize people in different parts of Syria. Who is allowed to participate and who isn't allowed to participate is very important. And will the US pull out of Syria?
The Americans have occupied significant portions of Syria without the permission of the Syrian government – that is a violation of Syrian sovereignty. Also, foreign governments have to stop providing assistance to extremists and terrorists. There is a lot to do, and it is not clear if the Americans and their allies are going to help this process move forward, or whether they are going to impede it.
But I think what is very positive is that these countries seem to be determined. Obviously, all three of them have their own opinion. But I think the very fact that they are getting together and they are making these statements public show that there is a strong degree of determination…
RT: How will America react to the proposal of inclusive constitutional elections in Syria?
SMM: This is one of the extraordinary issues that has led to so much destruction in Syria – that the US and its Western allies, and the Saudis tried to impose their will upon the Syrian people. In 2012 when Kofi Annan put his plan forward, Iran accepted the plan. It was basically a call for free and fair elections with international supervision, and that President Assad and his allies could participate. The Americans rejected it out of hand. They prevented it from happening.
If they had accepted that back then, which they should have because it is a sovereign country and it is not for the US to dictate its terms to the people. Then hundreds of thousands of people would not have been killed and millions of would not have had to flee their homes, and hundreds of billions of dollars of damages wouldn't have occurred.
Now we have to see if they [US] are going to accept this and if they are going to accept it in reality. The US often says one thing- as we Iranians have learned through the nuclear deal and the nuclear negotiations – they agree to something on paper, and in reality, they do something quite different…
RT: Do you think the talks have boosted the prospects of Syrian stability?
SMM: I think they are very important. Before we know that the Turkish government had very sharp differences with Iran and Russia. The convergence of those three countries is important. The very fact that President Assad also had negotiations with President Putin, I think is a positive sign.
We're hopeful that the Turks will move closer toward Syria, toward some sort of rapprochement as well, that the Turks are very concerned about the northern part of Syria and the terrorist groups that they believe are threatening Turkish sovereignty. So it is in their interest to move closer to the Syrian government and to the Iranians.
Also, we see that huge progress has been made on the ground. And things in Iraq are much better than before: the Iraqi government has retained sovereignty over the whole country. I think for the Syrian people things are looking quite good, despite all the horrific events of the past…