Better than a refugee camp? Spanish authorities under fire for hosting migrants in prison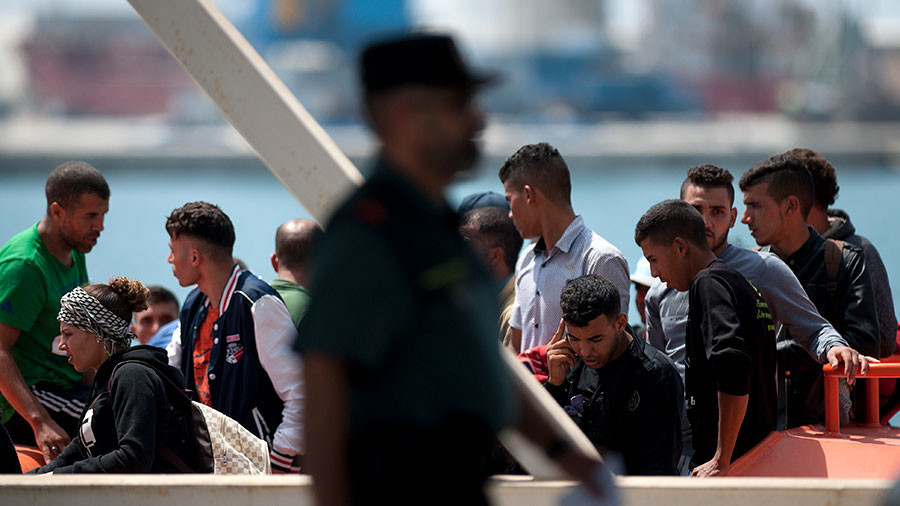 The Spanish government has been forced to defend its decision to house around 500 recently-arrived asylum seekers in a prison, following harsh criticism by human rights groups and NGOs, who slammed it as an "unfair criminalization" of migrants.
Madrid justified its actions by saying that nearly a thousand asylum seekers landed on Spanish shores by boat between 17-19 November. New arrivals are usually detained by police before being sent to immigrant detention centers while their claims are being processed.
However, claiming there was not enough space at existing detention centers, authorities sent around five hundred of mostly Algerian migrants to a new prison facility in the southern town of Archidona, near Malaga. The prison has state-of-the-art facilities including classrooms, an infirmary, sports fields, hairdressers, gym, occupational workshops, leisure rooms, showers and air conditioning, according to a government statement.
"We feel it is better that the migrants be held in a center with the latest technology, with sanitary facilities, showers, heating, beds, sports areas than to put them in camps like in other countries," AFP quoted Interior Minister Juan Ignacio Zoido as telling radio Onda Cero.
The decision, however, has come under heavy fire from human rights and migrant aid groups as well as NGOs. A joint statement issued by 22 organizations, including the Association for Human Rights of Andalusia (APDHA), the SOS Racism Federation and Doctors of the World, condemned the move as being illegal and criminalizing migrants. The statement also noted that under Spanish law, processing centers for asylum seekers are not allowed to be prisons, and called on the Ministry of the Interior to "immediately rectify" the situation.
"We are radically against this," Alejandro Cortina, the head of local migrant rights group Malaga Acoge, told AFP. "We don't know if they will have staff authorized to detect human trafficking, or if a judge will monitor this facility."
The decision to hold asylum seekers in prison was also criticized by the by Jesuit Migration Service, who said keeping them there violated their "rights and constitutional guarantees" and "unfairly criminalizes people." The Spanish Council of Lawyers said the migrants must be taken out of the jail immediately.
The NGO, Andalucia Acoge, which sent a team of lawyers to the site, described the prison to El Diario as being tense and overcrowded. Those being held there reportedly cannot use phones or call their family to tell them where they are. At least two of those held there are minors. The staff, meanwhile, are dressed as prison guards and not immigration officers.
The Spanish government has also been criticized by the leader of the United Left/The Greens–Assembly for Andalusia (IULV-CA) political movement, Antonio Maillo. Accusing the government of being "reactionary," Maillo said the law is very clear – even when there is no space, foreigners have the right to be taken somewhere elsewhere to a penitentiary. Another politician, Senator Maribel Mora of the left-wing Unidos Podemos, said the fire control and emergency evacuation systems in the prison have not yet been tested or reviewed, while the padlocked system of opening and shutting the cells is a fire hazard.
According to the International Organization for Migration (IOM), some 17,687 migrants reached Spanish shores by boat between January 1 and November 15 of this year, compared to only to 5,445 during the same period in 2016. Although not as popular as the illegal migration routes offered by Italy or Greece, Spain is still an important hub of entry for those seeking refuge in Europe.