Dirty scenario realized to split Islamic world – Erdogan lashes out at West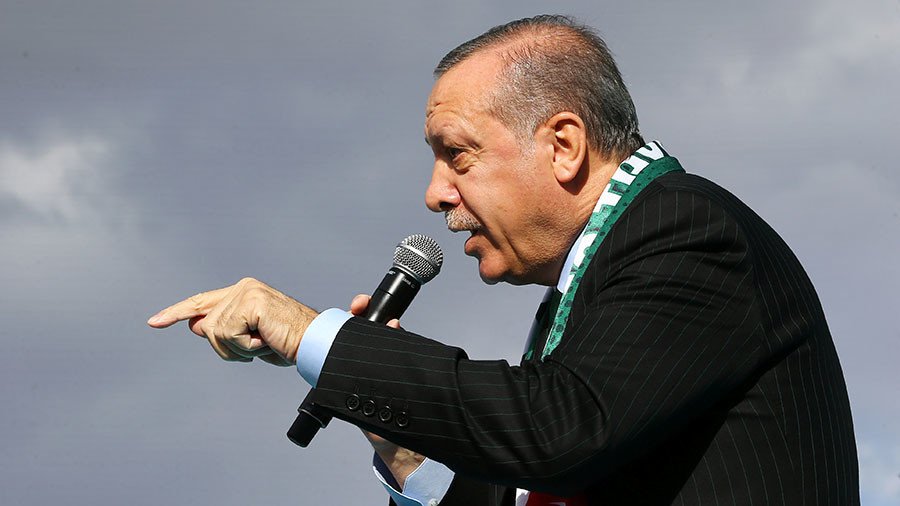 The West is exporting the worst elements to Islamic countries in an attempt to ensure its own future, the Turkish president has said. Recep Tayyip Erdogan claims that islamophobia, neo-Nazism and racism are replacing values such as democracy and human rights in the West.
"Unresponsiveness to the violence that has been going on in Syria for seven years, to the inhumane treatment refugees are subjected to at border gates, and to the genocide of the Rohingya have revealed the true face of the West," Erdogan said as cited by Anadolu.
"Islamophobia, neo-Nazism, and racism [are] beginning to replace values such as democracy, human rights and freedoms more and more" in the West, he added.
"The West has exported all kinds of sick elements to Islamic nations in an attempt to ensure its own future," the Turkish leader said. He specifically mentioned Islamic State (IS, formerly ISIS/ISIL), Al-Qaeda, Boko Haram, Kurdish YPG and the supporters of exiled Turkish cleric Fetullah Gullen – whom Ankara blames for a failed coup attempt last summer – saying that those groups have "transformed our entire region into a large blood bath."
Erdogan warned that "a scenario is being realized of splitting the Islamic world, Muslims, of destroying their values and, most dangerously, their future." And the Islamic world, according to Erdogan, has been going through a period of hardship in recent years, "literally an era of instigation."
Despite being a NATO member and a strong Western ally for decades, Turkey has had tense relations with both the US and the EU in recent years. Among a host of issues, the rift with Washington is mainly characterized by Washington's unwillingness to extradite Gullen to Turkey, in addition to its support of the Kurdish YPG, which Ankara considers to be an extension of the banned Kurdistan Worker's Party (PKK).
Turkish ties with Europe has been compromised by the refugee crisis and the stalled talks on visa free travel for Turks to the EU, which Brussels put on hold, citing Ankara's refusal to amend its harsh anti-terror laws. Heated words were also exchanged after some European countries, notably, Germany, banned the public appearances of Turkish ministers in the run up to Turkey's April referendum on constitutional reforms which significantly expanded Erdogan's powers.
READ MORE: Erdogan accuses US of financing ISIS, breaking promises in Syria
Last week, Turkey blamed NATO for smearing its leaders – past and present – and withdrew its troops from the Trident Javelin drills in Norway after Turkey's founding father Mustafa Kemal Ataturk and Erdogan were listed as enemies during a computer-assisted exercise. NATO apologized for the incident, which it blamed on a Norwegian civilian contractor who was fired for his anti-Turkish stunt.
You can share this story on social media: