'Democracy in bankers hands': Top French bank tells Le Pen's party to shut accounts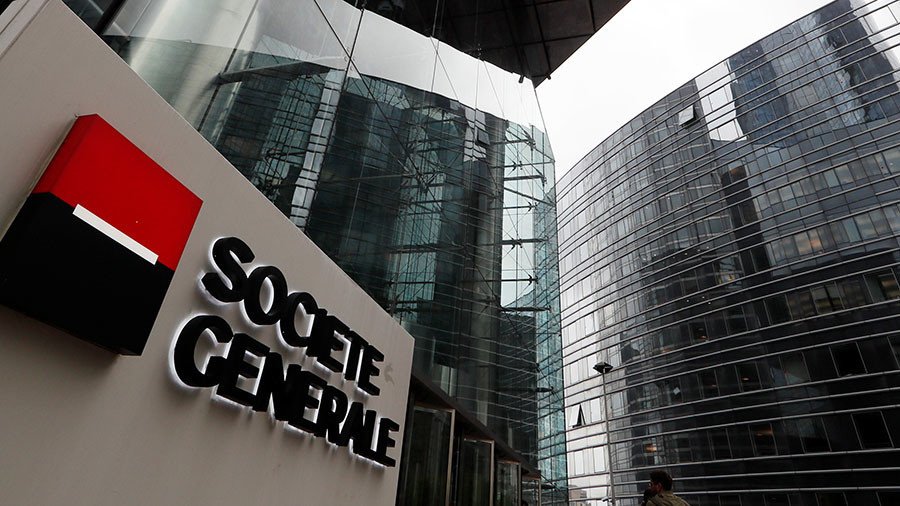 Societe Generale, one of France's biggest banks, has reportedly asked the National Front (FN), the far-right anti-immigration eurosceptic party led by Marine Le Pen, to close its accounts after 30 years of cooperation. FN has vowed to fight the decision.
"It seems the bank wants nothing more to do with us," FN spokesman David Rachline told Sud Radio early Tuesday. "It's a real scandal. We will resist and fight to overcome this persecution."
According to an internal party document received by the investigative magazine Mediapart, the bank wants to close all current and savings accounts held by the party.
READ MORE: Macron sparks outcry after telling workers protesting job cuts 'to look for a job'
Rachline added that the center-right Republican party is "10 or 20 times" more in debt than the National Front, yet they've been given a pass, suggesting a certain double-standard. This was echoed by the FN's vice-president, Louis Aliot, on BFMTV.
"A certain number of financial institutions have difficulty with democracy and pluralism," he said, as quoted by the Guardian. "I've noticed that Societe Generale is very generous with The Republicans, especially when it comes to renegotiating their debts, when they owe €50m, which is not our case… The French need to know that democracy is in the hands of the banks and those with money."
Although Aliot insisted otherwise, according to information obtained by Mediapart and France Inter radio, the party is in a precarious financial position. It had already been asked to close its accounts some months ago, while Monday, the central leadership reportedly started asking its branches for contributions in the form of checks, since they faced difficulties with its direct debit system.
SocGen has so far refused to confirm or deny whether this is the case, citing client confidentiality and only saying in a statement that it is following "the current regulations and requirements required of a banking establishment to the letter."
This is not the first time that the National Front has run into banking trouble. In December last year, party leaders complained that they were struggling to raise funds since no major French bank would agree to give them a loan. Party secretary Nicolas Bay said at the time that it was "a real scandal to see the French banks do not play the game of democracy."
Marine Le Pen and other FN leaders plan to hold a press conference Wednesday, where they are expected to denounce the party's "persecution" at the hands of the "financial oligarchy".
You can share this story on social media: