Promises, promises: Where are Elon Musk's Twitter teasers now?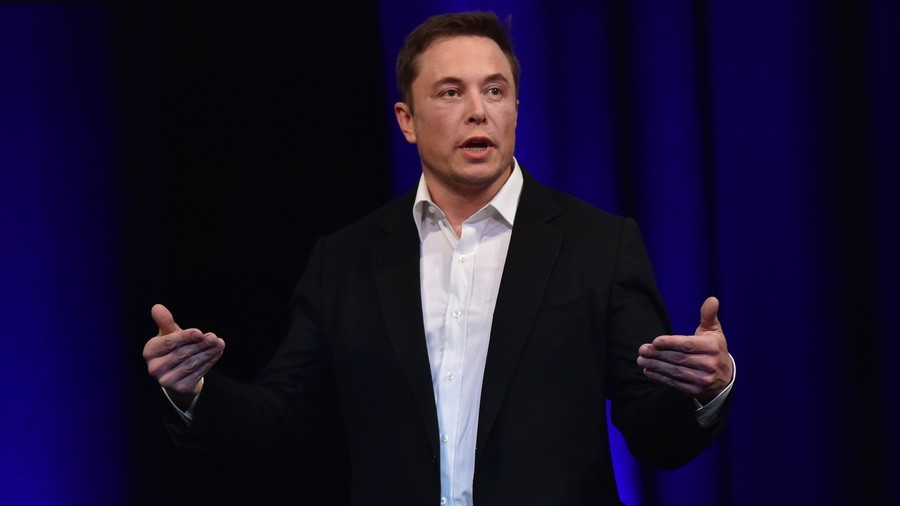 Elon Musk's Roadster may be capable of going from 0-60mph in the less than two seconds, but it's the prospect of using a flying version of the convertible to make short-hop trips that's truly exciting car fans.
The tech entrepreneur revealed his latest creation at a press event Friday – the Tesla Roadster, a next-generation sports car, which is claimed will be the fastest production car in the world. Musk tweeted a picture of the metallic red convertible Monday, followed by a statement saying: "Should clarify that this is the base model performance. There will be a special option package that takes it to the next level."
Responding to questions over what exactly he meant by "next level," Musk teased a rocket technology upgrade that would turn the Roadster into a Back To The Future-style flying car.
It's not clear whether Musk is entirely serious. He has admitted in the past that he "sometimes goes crazy" on Twitter. "You know, [when] there's a little red wine, a vintage record player, some ambien. Magic. Magic happens," he said at a shareholder's meeting in June, a sentiment he later echoed in a tweet.
READ MORE: 'Hardcore smackdown to gasoline rivals' – Elon Musk has a new toy
Here, RT.com looks back on some of Elon Musk's other Twitter teasers and checks where those projects are now.
Tesla Model Y
In 2015, Musk tweeted and then quickly deleted a short reference to the Tesla Model Y, an electric crossover SUV. Fans' interest was piqued as the Tesla Model 3, its predecessor and the architectural basis for the Model Y, had not even been put into production yet.
READ MORE: Elon Musk 'full of crap' on self-driving car claims - GM exec
The car is said to come with falcon wing doors, much like the infamous DeLorean, and is scheduled for release in 2020. As it is, many customers who have placed reservations on the Model 3 are yet to actually see their cars, with the company struggling to complete production and turn a profit on the vehicles.
Tesla's struggle to produce cars has led to criticism from within the industry in recent times. After Musk unveiled his Roadster along with an electric semi-truck, Bob Lutz, a former GM executive, called the company a "losing enterprise."
"The company, folks, is going out of business. At this rate they'll never get to 2019," Lutz told CNBC.
Boring Company
Driven to distraction by Los Angeles traffic, the inventor took to Twitter to announce he was going to build a machine that could create underground tunnels for cars.
With the time and means to put the idea into action, Musk soon set up the Boring Company, an infrastructure and construction firm preparing tunnels for an underground Hyperloop connecting parts of Los Angeles, and another linking Baltimore and Washington.
Manned missions to the Moon and Mars
Despite warnings about the viability of a manned mission to Mars, Musk is pressing ahead with plans to send a cargo mission to Mars by 2022. This, he says, will be followed by a manned mission in 2024.
According to Scientific American, Musk is banking on the successful development of the SpaceX Raptor reusable rocket which will be the most powerful ever produced, capable of launching 300 metric tons to low Earth orbit. NASA's Saturn V moon rocket, meanwhile, could lift 135 metric tons. Sending missions every two years, he hopes to send 1 million people to Mars within the next century.
READ MORE: Musk's 'Big F*cking Rocket' will get you 'anywhere on Earth in under an hour' (VIDEOS, PHOTOS)
Musk has also spoken of man's need to have a base on the moon. "If you want to get the public fired up, you've got to put a base on the moon," he said at the International Space Station (ISS) Research & Development Conference in Washington DC in July. By September, he was posting conceptual drawings of the project.
Nueralink
The CEO was rumored to be investing $100 million of his own money to fund Neuralink project, a start-up he hopes will one day produce technology capable of connecting the human brain to a computer. The billionaire tycoon is of the opinion that humans must merge with computers or face being destroyed by the rise of artificial intelligence.
READ MORE: Superbrains getting closer? Musk 'lines up $100m' to fund Neuralink brain-computer interface
"Over time I think we will probably see a closer merger of biological intelligence and digital intelligence," Musk told a conference in Dubai in February. He added that "it's mostly about the bandwidth, the speed of the connection between your brain and the digital version of yourself, particularly output."
We're yet to see whether this prediction will prove correct, but his comments fell foul of Facebook founder Mark Zuckerberg who labelled him "irresponsible." Musk hit back later, taking to Twitter to say that he'd spoken to Zuckerberg and found his knowledge of the subject "limited."
You can share this story on social media: