Russia gives unique 3D Palmyra model to Syria to help restore ancient city (VIDEO)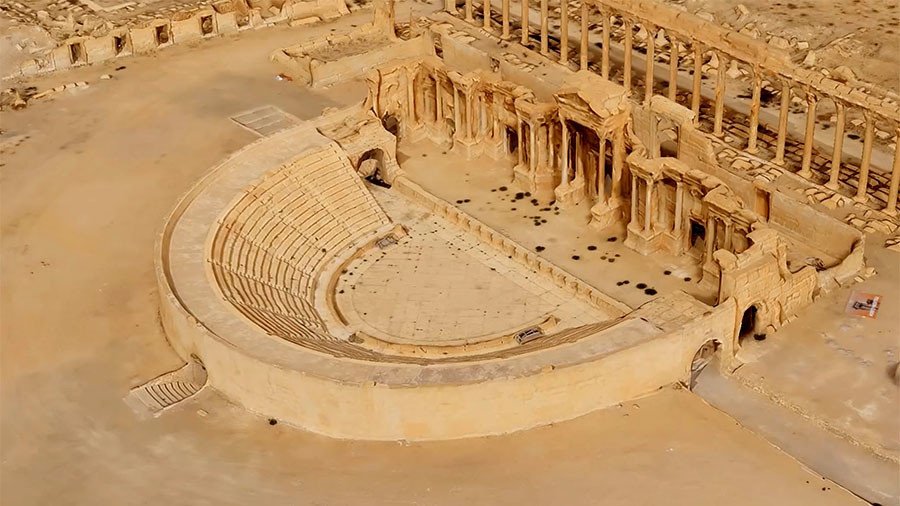 Russian researchers have created a model of the ancient city of Palmyra, based on thousands of drone images. Unveiled at the St. Petersburg cultural forum, it will be given to Syria to help restore and preserve the UNESCO World Heritage site ravaged by ISIS.
The 3D model has been created by scientists from the Institute for the History of Material Culture of the Russian Academy of Sciences, with the help of experts from the Hermitage Museum. As part of their work on the project, which features both landscape and architectural designs of Palmyra, Russian researchers visited the Syrian city in September 2016. During their special expedition, some 20,000 drone images were taken.
Based on the aerial footage, the detailed copy has been created, which will allow observers to track the state of the World Heritage Site by simply comparing new images to the 3D model. It will also help restore the ancient city, which has been largely destroyed by Islamic State (IS, formerly ISIS/ISIL) terrorists.
At the international cultural forum in St. Petersburg, the project has been given to Damascus to help it with rebuilding Palmyra. Calling it "unique and unprecedented," the Ambassador of Syria to Russia, Riad Haddad, said the model highlights Russia's "huge cultural support" for his country.
"Now we can start practical work to restore the city," Haddad told the forum on Saturday. The diplomat also praised efforts of the Russian military in helping to save not only the ancient part of Palmyra, but also the modern Syrian city and many of its residents from IS terrorists' atrocities. Haddad called the terrorist group's rampage in Palmyra "a crime against all humanity," adding that Damascus is doing all it can to help preserve ancient artifacts for future generations.
READ MORE: 'Destroying Palmyra is cultural cleansing of Syrian people' – UNESCO
The issue of preservation has also been raised by the Hermitage Museum director, Mikhail Piotrovsky. He said one of the most challenging tasks now is to track pieces of art stolen by the terrorists. Refuting claims that some such works "surface" at auctions in the US or Europe, Piotrovsky said they mainly remain in the Middle East.
"Those pieces are in their countries of origin, or in the [Persian] Gulf area, or go further into other parts of Asia. An extensive work is ahead to find and pinpoint routes through which they are transported," Piotrovsky told RT, adding that Moscow has joined efforts with various police organizations and Interpol.
READ MORE: Drone footage shows war toll taken on Palmyra's ancient center (EXCLUSIVE VIDEO)
You can share this story on social media: