Partners in crime: Saudi police arrest man for speaking to woman (VIDEO)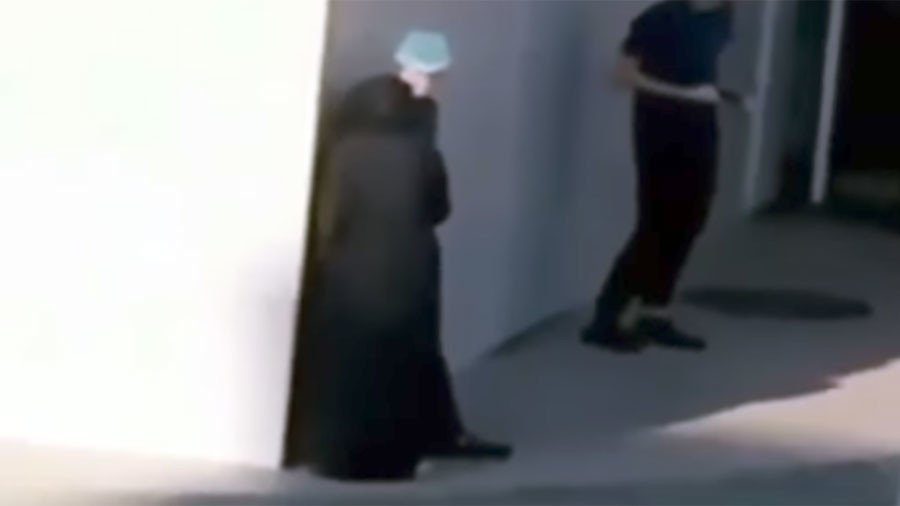 Saudi police have reportedly arrested a man for talking to a woman during his lunch break in the city of Mecca. A video of the culprit wearing a mandatory hijab and having a word with a guy behind a popular fast-food restaurant has gone viral.
The clip was recorded from the roof of a nearby building and has gathered over 200,000 views since Thursday. It shows a young lady approaching a restaurant employee behind the eatery where he works. The pair talk for half a minute before the woman in black walks off.
A police spokesman told Akbhaar24 News that, following a "thorough investigation" into the incident, law-enforcement officers managed to identify the place where the brief conversation had taken place - a fast-food restaurant located near a school.
The woman seen in the video turned out to be a school student, whose behavior is against the Kingdom's "moral norms," police said. They also identified the woman's partner in crime, who was questioned and punished according to Saudi rules and regulations.
READ MORE: Erdogan rejects 'moderate Islam' as a Western tool to weaken Muslims
The video of the pair's verbal interaction has caused mixed reaction on social media, with many blaming the woman, and some suggesting the man should marry the girl to atone for the offence.
"The girl is supposed to be held accountable?"
من الظلم أن يتم التحقيق مع عامل ولا يتم التحقيق مع الفتاة وهي من ذهبت إليه .

— حدث وتعليق (@alighamdi935) 16 ноября 2017 г.
"It is unfair to investigate a worker and not to investigate the woman who went to see him."
"Marry her without saying many words."
Riyadh is known for its adherence to ultra-conservative Islamic norms and strict segregation of men and women. It has long been the only state where women are officially forbidden to drive. Crown Prince of Saudi Arabia Mohammed bin Salman made waves late last month when he pledged to restore "moderate" Islam, which is open to all religions in the world.

READ MORE: Ultra-conservatism takes backseat? How Saudi Crown Prince could 'fundamentally change' kingdom
"We are returning to what we were before – a country of moderate Islam that is open to all religions and to the world," he said at an economic forum in Riyadh, as quoted by AFP, adding that "We will not spend the next 30 years of our lives dealing with destructive ideas."
You can share this story on social media: