Frozen Russian baby mammoth gets warm welcome in Australia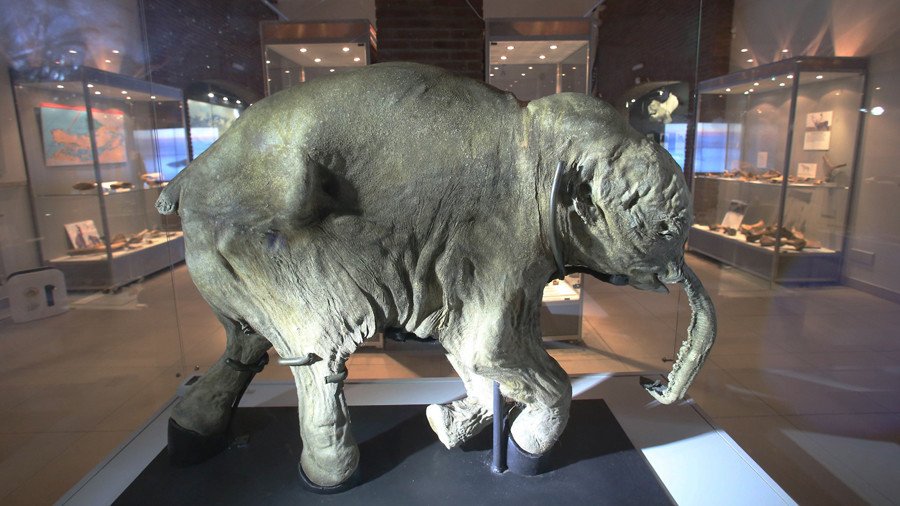 The world's most complete woolly mammoth, the 42,000-year-old calf Lyuba, who is preserved in permafrost, has made her first-ever journey to the southern hemisphere. The calf traveled from Russia to Australia for a Sydney museum exhibition.
Lyuba is no stranger to lengthy tours, but it is her first known trip Down Under. The rare, exceptionally well-preserved example of the Ice Age species was found in Russia's Urals 10 years ago, and has since starred at numerous exhibitions around the globe.
Unveiled in Sydney on Friday, Luyba will be the main attraction at the Australian Museum's Mammoths: Giants of the Ice Age exhibition, which opens on November 18 and runs until May 13, 2018.
"I guess the star of the show is Lyuba the baby woolly mammoth from Siberia," the museum's director, Kim McKay, said, as cited by the ABC.
The calf arrived in Sydney in a special crate from Russia's Shemanovsky Yamal-Nenets District Museum. Transporting her requires specific conditions in order not to harm the remains, as she is an "extraordinarily delicate thing," says Australian Museum creative producer Trevor Ahearn.
"She's come from the Arctic Circle, which is clearly a very different climate to Sydney. We've had to put her in our special store, which is climate controlled, and she had to stay there for 24 to 48 hours to acclimatize before we could crack open the case," Ahearn said.
Lyuba was found in 2007 near the Yuribey River in the Yamalo-Nenets region of the Urals. The discovery was made by a local reindeer herder, who reportedly named the find after his wife, Luybov – or Lyuba for short – which means 'love' in Russian.
The remains of the baby woolly mammoth are considered to be the most well-preserved and intact, as Lyuba lacks only a tail and part of her ear. The mud which she had fallen into before her death helped to preserve the remains, giving scientists a unique opportunity to study her.
"She tells us the story of woolly mammoths in a way that scientists have never been able to study before," Australian Museum director McKay told local media.
You can share this story on social media: