Heroic teacher saved toddler girl's life in plane crash – witnesses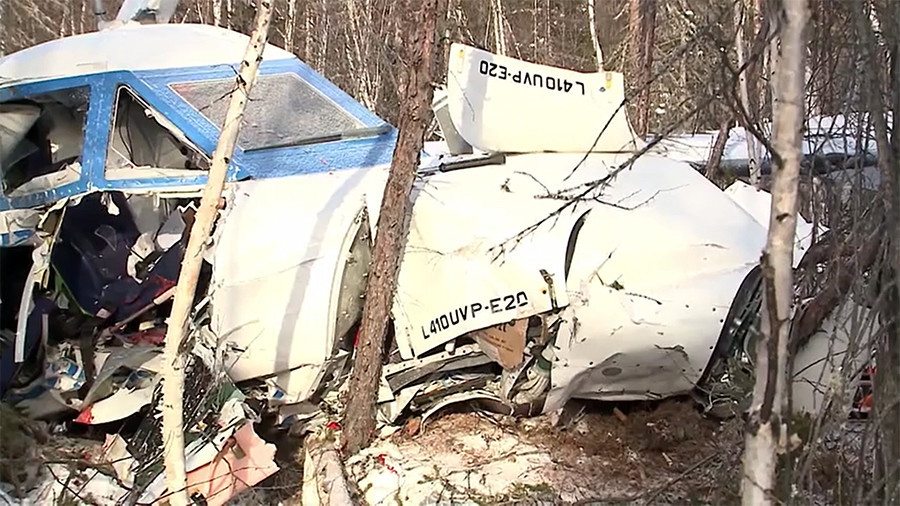 A school teacher is believed to have saved the life of a three-year-old girl, the sole survivor of a recent plane crash in the Russian Far East, by covering the child with her body. Locals are now asking for a posthumous award for the teacher.
Olga Laponnikova, a teacher in the local school in the Russian Far Eastern village of Nelkan, was traveling in the L-410 passenger plane along with five other passengers and two crew members. Seated next to her was a three-year-old girl. The child was the only person to survive when the plane plummeted a reported 600 meters during landing – apparently thanks to the teacher's actions.
READ MORE: Plane crash in Russian Far East kills 6, child survives – reports
"She covered the girl with her own body," the school's headteacher, Nina Pakhomova, told Ruptly, barely keeping herself from breaking into tears. "That's how she was found, lying on top of the girl. She couldn't do otherwise, even in that situation. Even knowing that that was it, her goal was to save the child. I only want her to be awarded, posthumously."
The head teacher is one of the many locals who are now petitioning the regional governor to help in getting Olga posthumously decorated for her heroism. Olga is survived by her husband, a war veteran, and two sons, RBC reports, citing a local resident. According to the teacher's mother, she commanded the respect of the locals, and was elected to the local council. Her husband is said to have also lost his mother in the crash. "He is not feeling well, he is asking 'How do I live now?'" Olga's mother told RBC.
The surviving girl, Zhasmina Leontyeva, is currently in hospital in the regional capital, Khabarovsk. Doctors say she is stable and waiting for surgery. Ruptly briefly spoke to her grandmother Elena, who is staying in the hospital with her.
"In the night, she asked me, 'Where is everyone?' 'Gone home,' I told her."