Best in Education: RT's #1917Live project grabs prestigious social media 'Shortys' award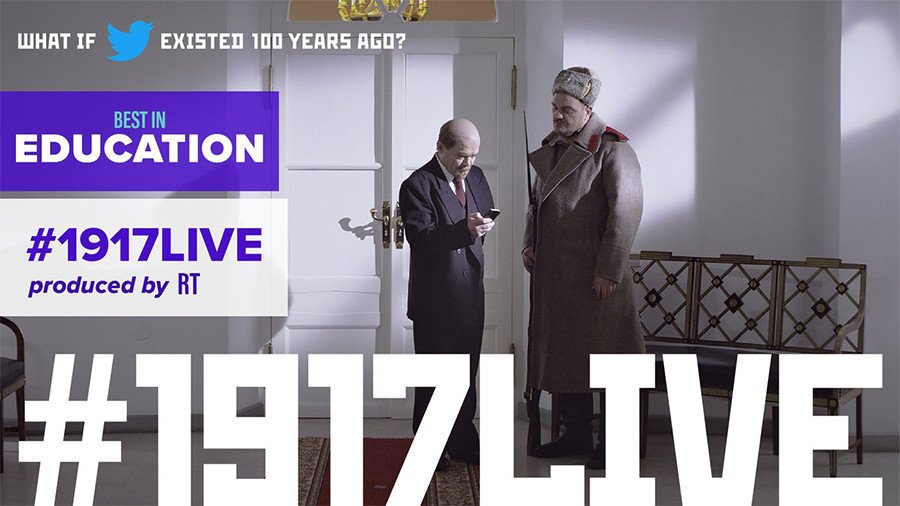 RT's interactive large-scale historical reenactment of the Russian Revolution through real-time tweeting has been recognized as "Best in Education" at the prestigious Shorty Social Good Awards. The #1917Live effective use of the platform also brought it a Gold award in Twitter presence.
Beating 25 other contenders, "#1917LIVE: What if Twitter existed 100 years ago?" has gotten "one of the most competitive and prestigious" category of the Shorty Awards - "The Best in Education." RT's project competed alongside Google and Verizon programs that "seek to address education inside and outside of the classroom."
#1917Live reenacts the events of the Russian Revolution as if historical characters of that time, from the last Russian Tsar Nicholas II and revolutionary leader Vladimir Lenin, as well as ordinary people could share their voices on social media. Apart from reliving the events of a hundred years ago, one of the project's key goals has been "to educate and inspire the audience to learn, while setting new best-in-class Twitter standards."
Teaching history lessons in the social media era, the project allows anyone to join the reenactment and set up their own #1917Live account. Having grown rapidly since its launch in late 2016, the project attracted journalists, history enthusiasts and academics, including from Oxford, Georgetown, Cardiff and British Columbia. Meanwhile, the Zagreb Faculty of Philosophy in Croatia even uses RT's Twitter project during its history classes. "Every innovation not only popularizes science, but also improves pedagogical approaches," history professor Hrvoje Klasića says.
#1917Live has also become a finalist in "Best overall Twitter presence," which honors the effective use of Twitter "to promote, enhance or otherwise endear their brand to the Twitter audience." The #1917Live project has been outrun only by the American Civil Liberties Union's account, said to be an "important part of the resistance to Trump's unconstitutional agenda."
The Shorty Awards, or "Shortys," are a set of prestigious annual awards, which celebrate those producing content across the social web, including Twitter, Facebook, YouTube and Instagram.
READ MORE: RT's #1917LIVE nominated for prestigious online DRUM award for 'Most Innovative Use of Social'
You can share this story on social media: