'SDF forces want to occupy Raqqa with full US backing?'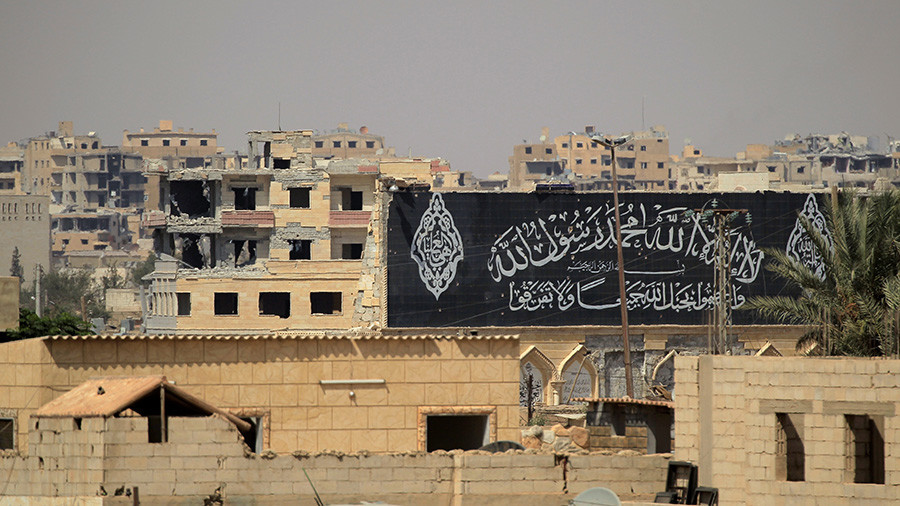 If ISIS fighters were able to leave Raqqa under a secret deal, it raises questions whether the US-led coalition was about fighting ISIS or about backing Kurdish forces to compromise Syrian territory, says Patrick Henningsen, editor at 21st Century Wire.com.
Allegedly hundreds of ISIS fighters may have been given free passage as they left the liberated city of Raqqa in Syria. Reportedly, they were able to depart in a convoy.
The spokesman for the Combined Joint Task Force Ryan Dillon responding to the claims said"there were four foreign fighters that were identified and were detained by the Syrian Democratic Forces. Out of the rest of the - out of the 3,500 civilians that came out of - Raqqa at that time, approximately less than 300 were identified and screened as potential ISIS fighters."
RT: What do you make of the reports that hundreds of fighters were able to leave the city?
Patrick Henningsen: First of all this is a surprising bit of reporting by the BBC arguably probably the best bit reporting they have done in Syria in six years. It is an explosive story. What it basically says is that the US-backed so-called Syrian Democratic Forces, the SDF, have basically colluded with ISIS. It isn't the first time by the way. It is also not the first time we have multiple reports on August 24 of US choppers airlifting ISIS commanders out of Deir ez-Zor as that city was falling and ISIS was being rooted out of Deir ez-Zor. A number of these reports we've seen over the months. What's significant about this – is that the excuse given apparently by the Kurdish forces was that they did this to maintain a balance of peace with the Arab communities surrounding the area. So this can only mean one reason, which is that these SDF forces want to occupy Raqqa and some of the areas with the full backing of the US. So was this ever about fighting ISIS for the coalition? Or was it about propping up or backing Kurdish forces to occupy territory to basically compromise the territorial integrity of the nation-state of Syria?
RT: How significant would it be if ISIS fighters were able to leave Raqqa? Would they be killed eventually, do you think?
PH: This is a huge problem. If they left their weapons and then traveled mixed with civilians and residents through Syria into Turkey, through Jordan, maybe even slipping over the border into Iraq. But there's quite a few foreign fighters, and this was also admitted in this report as well. So you can see some of the French cohort as well, heading back to France – a completely exclusively French ISIS sort of unit there in Raqqa. And we saw similar reports from Mosul, as well. By the way, there is another case which is in the Iraqi judiciary right now – of Kurdish forces, Peshmerga forces, basically doing a similar sort of a deal with ISIS fighters coming out of places like Mosul and Kirkuk. This is a kind of a trend we're seeing of collusion here with what the US constantly is saying "these are our great partners on the ground" – various Kurdish forces, SDF forces … Peshmerga. And in many cases, we're seeing reports from the Middle Eastern press of the sort of this collusion with ISIS. So this should get a lot more attention in the Western media. This is a really important issue.
RT: It doesn't say many things could be done. This is very much down to those on the ground, isn't it?
PH: That's right, and rightly Syria is considering this still an occupied territory, even though ISIS has been defeated. This speaks to the fundamental problem here –is that the US and the coalition, their operation against ISIS – Inherent Resolve - has never really been, in my opinion strategically about defeating ISIS. The easiest way to do that would have been to partner with the Syrian Arab Army, with the Russian Air Force, with Iranian Special Forces, with Hezbollah – that sort of main ground forces.
But instead, from the beginning, they worked to prop up the fake construct, in my opinion, the Syrian Democratic Forces, which is basically a Kurdish militia armed by the US and given all sorts of clout with the expressed intent of doing exactly what it is doing now, which is occupying territory inside Syria. So the US has no business to be in Syria now that ISIS is defeated, but yet now there is somehow the situation being created by the nature of this group that's been empowered by the US.