Duterte sings at ASEAN gala dinner 'upon Trump's orders' (VIDEO)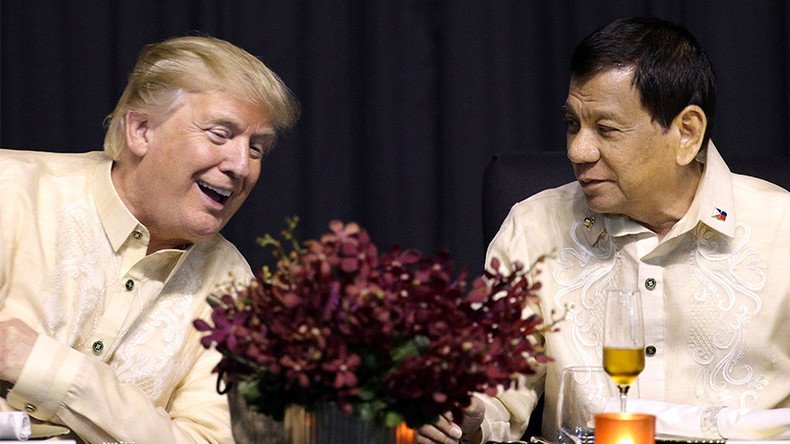 The Philippines president surprised his guests at an ASEAN summit gala dinner when he broke out in song, which Rodrigo Duterte joked he sang "upon the orders of the commander in chief of the United States."
Duterte hosted Trump and other leaders for a flashy dinner at SMX Convention Center in Pasay City Sunday, ahead of the official start of the 31st Association of Southeast Asian Nations (ASEAN) Summit. However, at some point into the banquet, Duterte, seated next to Trump in his formal Philippines long-sleeved white shirt, suddenly stood up and startled his guests with a vocal performance.
"Ladies and gentlemen, I sang uninvited a duet with Ms. Pilita Corrales upon the orders of the commander in chief of the United States," Duterte said after he concluded the song, as heard in a video shared by Filipino Undersecretary for Legal Affairs and Priority Projects Karen Jimeno.
Duterte sang in a duet with a local diva Pilita Corrales, performing a popular song, 'Ikaw' (You), which goes: "You are the love I have been waiting for. My heart was despaired for so long but now it is finally here. You, You are the love that was truly given."
While Trump and Duterte have already spent some informal time together, their official meeting is scheduled for Monday.
You can share this story on social media: