Democrats 'use Putin as stick to beat Trump,' hindering US-Russia rapprochement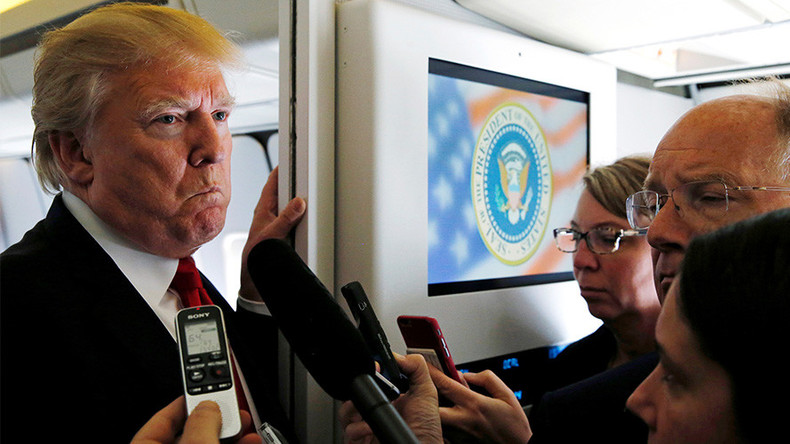 Despite dashed hopes of a bilateral meeting between the Russian and US presidents on the sidelines of Vietnam's APEC summit, Vladimir Putin and Donald Trump managed some rapprochement, political analysts have told RT.
They explained that this fact has angered some in the US establishment, and that it's the camp that lost the 2016 US election, the Democratic Party, that are pushing to derail Russian-American cooperation.
Both Putin and Trump "understand that one of them can't fix any of the problems in the world without at least a concession of the other," Ray Finch, an MEP from the UK Independence Party said. Saying the two leaders, like most in the world, want as much peace as possible, Finch pointed out that there are certain political forces in the US that wouldn't allow progress because of animosity towards the Republican president.
Democrats "refuse to accept the validity of Trump's presidential victory" and "are using Russia and Putin as a stick with which to beat [Trump]," the British politician said. He added that opposing Russia and America "does nobody any good."
There is "the deep state in the US [that] wouldn't allow Donald Trump to move towards a rapprochement and improvement of relations with Russia," political analyst, Seyyed Mostafa Khoshcheshm believes. He said certain political forces in the US are trying hard to "deteriorate relations with Russia," and the expert noted that even Putin's "goodwill gestures" have failed to make them "drop their animosity."
"They are still blaming Russia for the election of Donald Trump despite the fact that he has been elected by [the] American people who were not satisfied with the White House and political elite of the country," Khoshcheshm said.
A division in US power groups, with one wanting closer relations with Russia and aiming to solve problems that divide the two nations, and the other being against any contacts, only shows the "weakness" of the current administration in Washington, author and Russia analyst Martin McCauley told RT.
"The situation is toxic now because the American administration really is afraid to meet any Russian officials, which could be misconstrued and used by their political enemies back in the US," he said. McCauley added that such a situation harms Washington itself. "A lot of American politicians, especially on the Democrat side don't want any deal with Russia even though it may be an advantage to America itself."
Remarks by Donald Trump during a press gaggle aboard Air Force One, published Saturday by Politico, confirm the notions put forward by the experts.
"Having a relationship with Russia would be a great thing – not a good thing – it would be a great thing," Trump underlined, adding, that it would help solve a number of international issues, including the conflicts in Syria and Ukraine, as well as tensions surrounding North Korea.
"I'd rather have him – you know, work with him on the Ukraine than standing and arguing about whether or not [he meddled in our election] – because that whole thing was set up by the Democrats," the US president pointed out. "There's an artificial barrier that puts in the way by the Democrats. It's a fake barrier. There was no collusion. Everybody knows there was no collusion."
Despite "the lack of a relationship that we have with Russia because of this artificial thing that's happening with this Democratic-inspired thing," Trump promised a meeting with Putin. The US leader made clear that he can't let those forces "destroy a very important potential relationship between the two countries."