Wax Hitler removed from Indonesian museum following outcry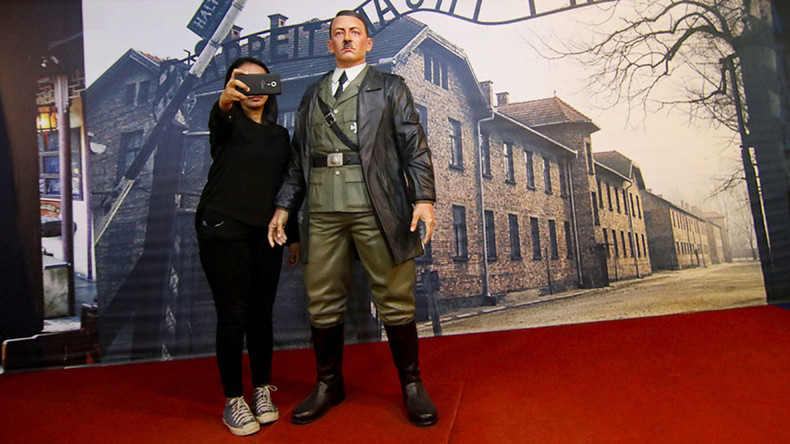 An Indonesian museum, which until recently, had allowed visitors to snap selfies with a full-sized waxwork of Adolf Hitler against the backdrop of the Auschwitz death camp gates, has taken down the figure following a storm of criticism.
The De Mata De Arca visual effects museum has around 100 waxworks of celebrities, politicians and fictional characters, according to its website. Until Saturday, the figure of Hitler could be found standing between Star Wars' Darth Vader and Indonesian leader Joko 'Jokowi' Widodo.
The Nazi Germany leader was placed against a wall-sized banner depicting the Auschwitz-Birkenau extermination camp with the notorious "Arbeit macht frei" (Work sets you free) sign. The wax Hitler proved popular with locals, who shared their selfies on social media platforms. The snapshots show some of the visitors even engaged in the Nazi salute.
The Hitler figure drew international outrage, with Human Rights Watch (HRW) describing it as "sickening." The Los-Angeles based Simon Wiesenthal Center, campaigning against anti-Semitism, decried the installation as "wrong" and "contemptible." The Auschwitz background "mocks the victims who went in and never came out" of the Nazi's largest mass murder site, the center's associate dean, Rabbi Abraham Cooper said.
A marketing officer for the museum told AP that visitors never complained about the statue. "Most of our visitors are having fun because they know this is just an entertainment museum," he said. On Saturday, however, the museum said it took down the statue following a wave of condemnation.
"We don't want to attract outrage," the museum's operations manager, Jamie Misbah, told AFP. The figure was supposed "to educate," he added.
HRW welcomed the decision, confirming that the Hitler waxwork was removed, according to its Indonesia researcher Andreas Harsono. "Regardless the intention, depicting Hitler as if he were a respected figure is in bad taste," Harsono said, according to Haaretz.