Pose with Hitler?! Indonesian museum offers happy snaps in front of Auschwitz display for 'fun'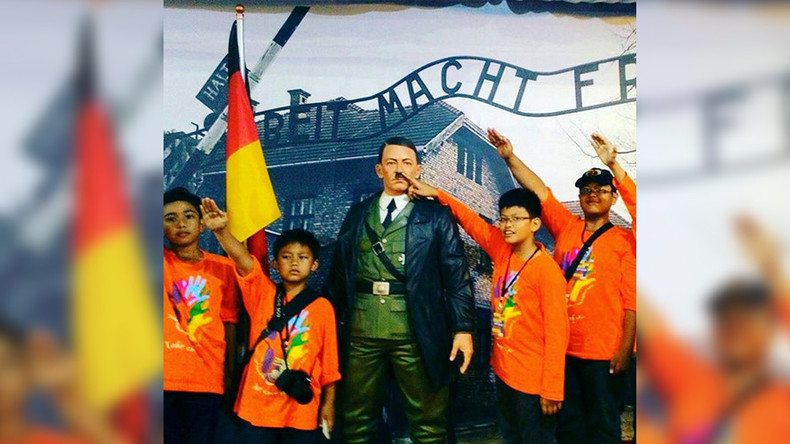 Visitors at a visual effects museum in Indonesia can pose for a snap with a wax Adolf Hitler, against a banner depicting the Auschwitz death camp. Seen as "fun" by the museum, HRW and a US Jewish organization called it "sickening" and "wrong."
De Mata, the entertainment museum behind the controversial display, placed a wall-sized photo of the entrance to the Auschwitz-Birkenau concentration camp with the infamous inscription "Arbeit macht freit" (Work sets you free). In front of the banner, a wax sculpture of the Nazi German leader Adolf Hitler stands in a dominant posture.
"Everything about it is wrong. It's hard to find words for how contemptible it is," AP quoted Rabbi Abraham Cooper, an associate dean from the US Simon Wiesenthal Center, which advocates against anti-Semitism and Holocaust denial. "The background is disgusting. It mocks the victims who went in and never came out," he added, referring to at least 1.1 million prisoners who died at the Nazi's largest murder complex of Auschwitz between 1940 and 1945.
The Hitler figure is "one of the favorite for our visitors to take selfies with," said a marketing officer in the museum who goes by the name of Warli. "Most of our visitors are having fun because they know this is just an entertainment museum." The Yogyakarta museum hasn't received any complaints about the figure, displayed since 2014, he added, saying he was aware of the crimes Hitler committed.
Human Rights Watch has, too, lashed out at the installation, calling it "sickening." The figure represents a widespread anti-Jewish attitude in a Muslim-majority country, believes the HRW's Indonesia researcher, Andreas Harsono. The Indonesian Jewish community is rather modest, accounting for some 200 synagogue-goers, according to the United Indonesian Jewish Community, as the Times of Israel reported.
After Cooper criticized the business for exploiting the Nazism theme for revenue, branding it "inexcusable," the museum officer promised to discuss the calls to remove the figure with management and the owner. "We will follow the best advice and the response from the public. Let people judge whether the character is good or bad," Warli said.
Established near the Polish city of Oswiecim in 1940, the Auschwitz concentration camp complex saw at least 1.3 million people deported there. Nearly 1 million Jews, 74,000 Poles, 21,000 Roma and 15,000 Soviet prisoners were exterminated mainly in gas chambers of what became the deadliest of the Nazi mass murder sites. The Soviet Army liberated the camp on January 27, 1945, which now marks Holocaust Remembrance Day.
READ MORE: Cambridge college apologizes for Auschwitz Nazi death camp image on welcome leaflet
You can share this story on social media: