Drink till you drop: Never-ending supply of booze for sale on Singles' Day in China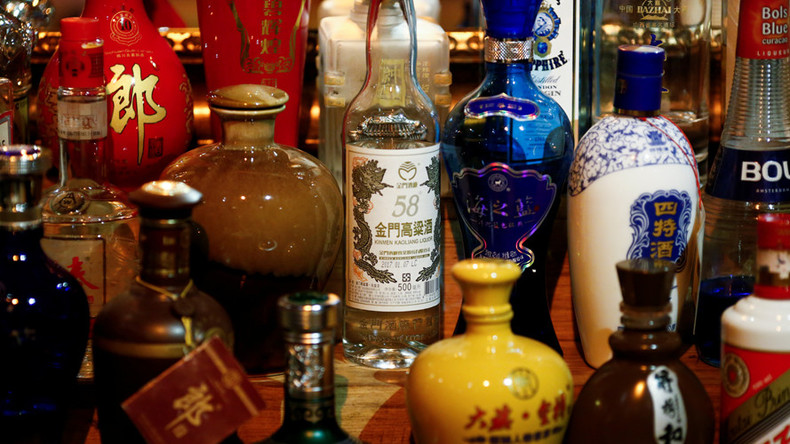 A Chinese liquor company is making an offer virtually no drinker would refuse. A lifetime supply of alcohol will be going on sale for less than $1,700, as China's e-commerce giant Alibaba begins a bumper annual shopping festival.
Jiangxiaobai Liquor Company is putting up a never-ending supply of booze for sale Saturday, marking the biggest shopping holiday in the world, AFP reports. Symbolically comprising of four "1"s, November 11 also marks Singles' Day, coined for those not in a romantic relationship and which they can celebrate by indulging in a spot of solo online shopping.
Available on Alibaba's main Tmall platform, the offer comes at a price of 11,111 yuan ($1,675) instead of the 99,999 yuan, the normal cost. It will also be possible to knock down the price with coupons and other Alibaba discounts.
The catch is that those wishing to grab the deal must stay alert, since the offer is limited to the first 33 customers, the South China Morning Post reported. The lucky ones would secure a 12-bottle pack of baijiu liquor every month until they die.
Meanwhile, a Beijing-based lawyer, Chang Sha, said the deal could be cancelled in case the company went bankrupt. The firm, however, gives certain guarantees to clients who would have secured the supply of the 52-degree spirit made from sorghum, rice or other grains.
"If a customer passes away within five years, their immediate family can continue to enjoy the service after providing valid identification," the company's customer service department said, according to the Global Times. The store also promises to provide a certificate, ensuring a full refund if it fails to deliver the supply.
Set to kick off at midnight Friday, the one-day Chinese shopping spree is expected to beat last year's record of $17.8 billion in sales.