Just roll with it! Japanese PM Abe 'falls into sand bunker' while golfing with Trump (VIDEO)
Published time: 9 Nov, 2017 17:24
Edited time: 10 Nov, 2017 08:15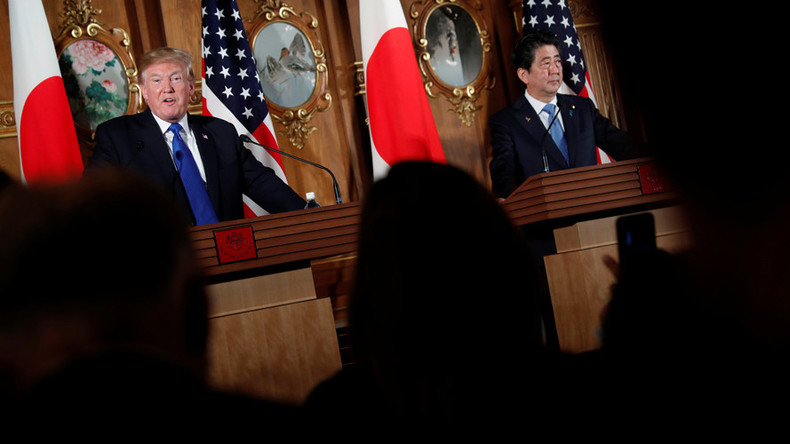 A round of golf between Donald Trump and Shinzo Abe has become a social media hit in Japan after a man that appeared to be the Japanese PM slipped on a patch of grass and comically rolled into a sand bunker. Luckily, the US president failed to notice the whole slip up.
The golf gaffe was caught on an aerial video at the Kasumigaseki Country Club in Kawagoe, Saitama Prefecture Sunday. The man, said to be Abe, had hit his ball out of the bunker, however, he unintentionally and hilariously ended up right back in the sand just after getting out.
Once the man had exited the sand and reached the grass, he somehow lost his footing and rolled backwards into the bunker, in a maneuver that has been widely shared on social media. He managed to quickly recover, eager to regain his composure before Trump could see what had happened.
Now, there's good news and bad news for Abe (or his lookalike). On the upside, Trump was walking with his back turned when the embarrassing tumble happened. On the other hand, the US president has, by now, probably seen what had happened, given his love of Twitter.
READ MORE: Twitter erupts after Trump says he 'never knew we had so many countries'
The internet can express its thanks to TV Tokyo, whose crew filmed the incident from a helicopter. RT, however, can neither confirm nor deny that the man seen in the footage is Abe. The popular myth-busting website Snopes has noted that Abe was wearing a dark blue shirt during the round of golf, but the man who fell was wearing white.
"It's certainly possible that Abe changed shirts at sometime during his round of golf. However, we've searched through all of the images and videos that we could find from this round of golf… And didn't find any images of Abe in a white shirt," the website wrote.