Woman suffers severe burns & dies after Mexico fireworks factory explosion (VIDEO)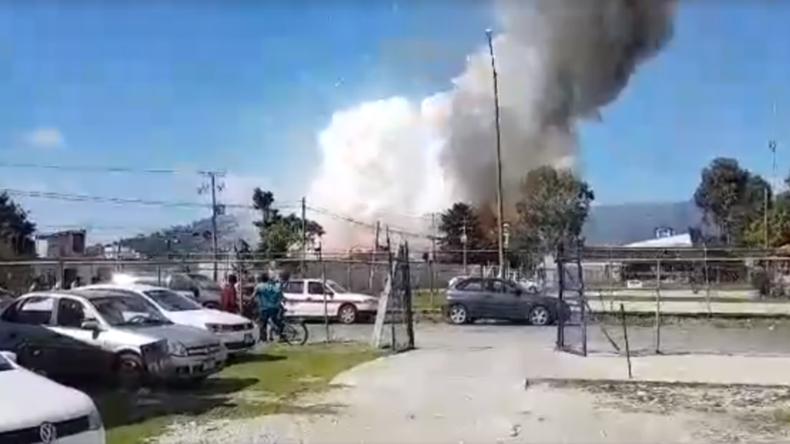 A woman has died after an explosion at a house that served as a fireworks factory in San Cristobal de las Casas in the southern Mexican state of Chiapas.
Shortly after the blast, dramatic footage began to circulate online, with San Cristobal resident Luis Alberto Garcia posting his own astonishing video of the incident on Facebook. Speaking to RT.com, the 29-year-old said he was passing through the area when he heard the first explosion.
"The first explosion was what made me record. Fortunately I was able to record the most impressive part." he said. "I thought the houses were falling. It seemed like a war zone."
The footage shows smoke rising into the air before a quick succession of explosions precedes a larger one that sends a plume of black smoke and fire skywards.
The explosion happened at around 2:30pm local time in the Los Pinos neighbourhood, near the premises of the state's Ministry of Security and Civil Protection as well as a Department of Defense military facility. Residents were evacuated as Civil Protection officers were concerned that there was a chance they might be exposed to chemicals released into the air, according to El Diario.
A local woman suffered burns to more than 90 percent of her body, Vortice reports. The victim, named as Guadalupe Velazco Hernandez, 31, was transferred to the Hospital of Cultures in San Cristobal where she suffered respiratory arrest and died.
READ MORE: Giant Weinstein effigy goes up in flames in Guy Fawkes celebrations (VIDEO)
Garcia, a veterinary doctor, said the house had been used to store gunpowder for fireworks for 10 years. He also claimed that neighbours had gone to police with concerns over the safety of the operation but their fears fell on deaf ears. "Unfortunately, that accident happened yesterday and left a lady dead," he said.
The San Cristobal explosion follows a number of similar incidents in Mexico in recent times.
In May, an explosion at a fireworks warehouse killed at least 14 people, all but three of them children, in a rural area of central Puebla state. In December 2016, 42 people were killed and 70 injured after a series of explosions at the country's largest fireworks market in the town of Tultepec outside Mexico City.