Security forces storm extremist HQ to foil attacks in Moscow (VIDEO)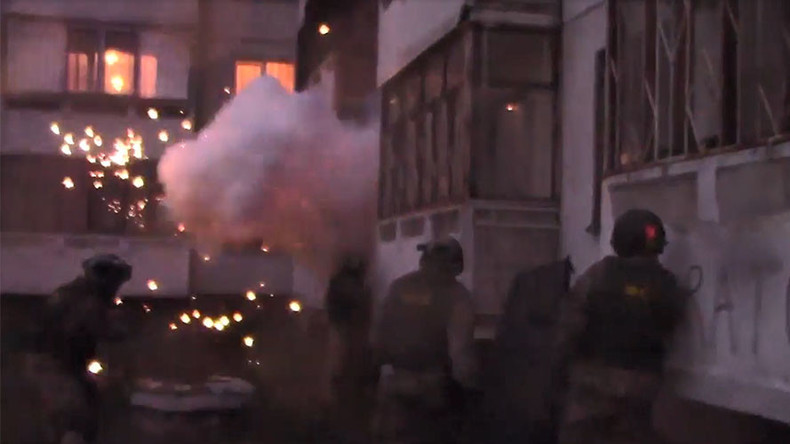 Russia's Federal Security Service (FSB) has released a video showing the operation when members of an extremist group that planned to carry out high-profile violent acts in the Russian capital were captured. Weapons, bomb components were also found in their apartments.
The footage shows FSB Special Forces units storming apartments belonging to suspected members of an extremist group in Moscow Friday, November 3. The operation was carried out ahead of Russia's National Unity Day, when the terrorists planned to carry out their attacks, according to FSB.
Following the search and seize action Friday, the FSB announced it had "curbed the illegal activities of a covert cell of the Artpodgotovka movement in the Moscow Region."
The detained members of the cell "planned to commit high-profile extremist acts on November 4-5, 2017 in the form of arson attacks on administrative buildings… and attacks on police officers in order to provoke mass riots." Artpodgotovka (Artillery bombardment) was ruled an extremist group by a Krasnoyarsk court which banned its activities in October.
Read more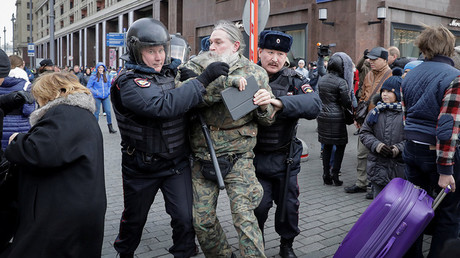 During the raid on one of the group members' apartments, FSB officers found various weapons such as knives and small firearms. They also discovered numerous components used to construct improvised explosive devices including chemicals for making explosives as well as remotely controlled electronic detonators.
In another apartment, the FSB discovered 15 petrol bombs and a canister of gasoline. Artpodgotovka cells were also shut down in the cities of Krasnoyarsk, Krasnodar, Kazan, Samara, and Saratov. The group members detained in Moscow could eventually be charged with planning a terrorist attack, FSB said in a statement.
The identities and exact number of those detained has not been disclosed by police.
Ahead of National Unity Day, the leader of the Artpodgotovka movement, Vyacheslav Maltsev, who is currently in hiding abroad, called on his supporters to take to the streets and protest against the government.
On November 5, police detained more than 260 people over breach of public order offenses. Some of the detainees were members of nationalist groups, according to some media outlets citing police sources.