Trump happy with S. Korea buying more US arms as he fuels North nuke scare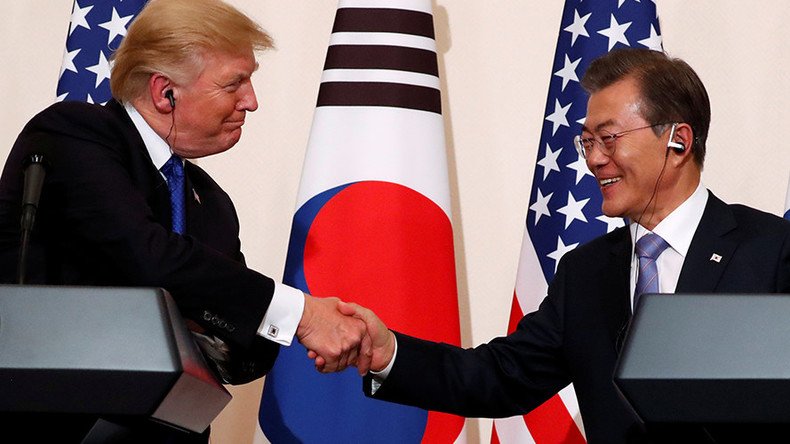 President Donald Trump is acting as a door-to-door salesman for US defense producers, pitching contracts to Japan and South Korea by talking up the bogeyman of Pyongyang's nukes.
During his ongoing visit to Seoul on Tuesday, Trump welcomed South Korea's plans to purchase billions of dollars' worth of American military hardware. The visiting president said he learned from his aides that the "amount of equipment and things you will be ordering from the United States will substantially increase, and therefore bringing the trade deficit down, which is very important to our people."
"We have trade deficits with numerous countries and we don't want trade deficits, so we appreciate that very much," Trump said, as cited by Yonhap news agency, after a one-on-one meeting with South Korean President Moon Jae-in.
Trump made a similar pitch during the previous leg of his Asian tour. Following a meeting with Japanese Prime Minister Shinzo Abe, the American leader said US weapons will help shoot down North Korean ballistic missiles.
Abe "will shoot them out of the sky when he completes the purchase of lots of additional military equipment from the United States," Trump said in Tokyo. "The prime minister is going to be purchasing massive amounts of military equipment, as he should. And we make the best military equipment by far." The latest claim provoked some snickering in Russia, with Deputy Prime Minister Dmitry Rogozin, who oversees the nation's defense sector, tweeting "Oh, really?" in response.
Trump advocated the Japanese arms deal as having a two-pronged effect. "It's a lot of jobs for us, and a lot of safety for Japan, and other countries that are likewise purchasing military equipment from us, that frankly a year ago or two years ago were not," Trump said.
The next destination for Trump will be America's global frenemy China, which would be an unlikely customer for the US defense industry – but he will still be able to promote American weapons in Vietnam and the Philippines later in the trip.
Trump's arms sales pitch is reinforced by an ongoing crisis over North Korea's missile and nuclear programs. Pyongyang has made considerable advances in both areas this year, leading to months of heated rhetoric. Trump dubbed North Korean leader Kim Jong-un "rocket man" and repeatedly warned that the US would rather use military force than live under the threat of a possible missile attack by Pyongyang. North Korea, which insists that it needs a nuclear deterrence to protect itself from American aggression, has responded with equally insulting and hostile statements.
On the home front, Trump used the perceived North Korean threat to justify additional defense funding before Congress. In a letter to Congress Speaker Paul Ryan, he argued on Monday that the Pentagon would need an additional $4 billion to counter Pyongyang.
"This request supports additional efforts to detect, defeat, and defend against any North Korean use of ballistic missiles against the United States, its deployed forces, allies, or partners," Trump wrote.
Trump's mantra on North Korea is that the "era of strategic patience" by the US ended when he entered the White House. The stance was criticized this week by John Kerry, who served as secretary of state under President Barack Obama. Kerry said Trump's rhetoric might lead to "the risk of tweeting yourself or insulting yourself into a position where something happens."
"It's given North Korea a reason to say, 'Hey, we need a bomb, because if we don't have a bomb, we're going to not be able to protect ourselves and they'll come after us,'" Kerry said in an interview with CNN's chief international correspondent, Christiane Amanpour.
You can share this story on social media: