'Arabian Warren Buffett' among those arrested in Saudi corruption crackdown – reports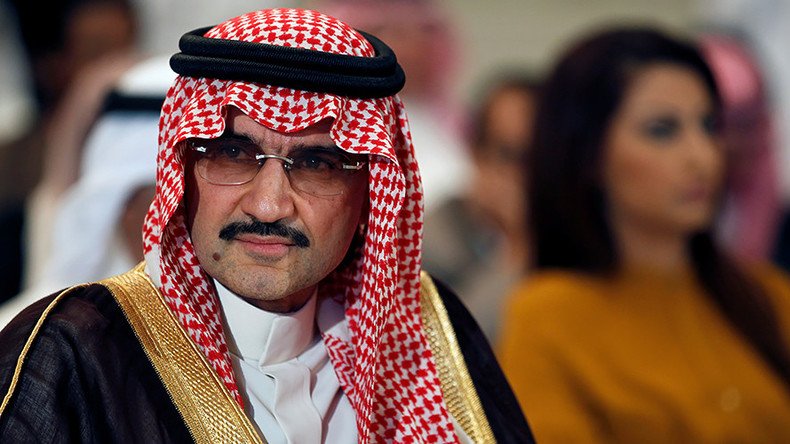 Prince Alwaleed bin Talal, one of the richest people in the world, has been allegedly arrested amid Saudi Arabia's sudden anti-corruption crackdown. The multi-billionaire has stakes in major US enterprises and has been dubbed the "Arabian Warren Buffett."
Bin Talal was among the 11 Saudi princes arrested by a new anti-corruption committee just hours after it was created by King Salman bin Abdulaziz Al Saud, various media outlets reported, citing unnamed sources within the Saudi government.
A grandson of the first Saudi king, Alwaleed bin Talal was listed as the 45th richest man in the world by Forbes in 2017. Bloomberg Billionaires Index put him in 50th place in a similar ranking. The Saudi prince's fortune amounts to between $18 billion and $19 billion, according to various estimates.
The Saudi multi-billionaire is the founder, CEO and almost sole owner of the Kingdom Holding investment company, which has a market capitalization of over $12 billion. His investment activities have led to him being dubbed the "Arabian Warren Buffett," as the prince has stakes in several major western corporations and in particularly made successful early bets on Apple and Netscape Communications.
Now, Alwaleed bin Talal holds major stakes in such US companies as Citigroup, Apple and Twitter. His company has also been a "significant investor" in Rupert Murdoch's News Corporation since 1997.
The prince's investments include several luxury hotel chains and he particularly invested in the Four Seasons Hotel George V in Paris, the Savoy in London and the Plaza in New York. Apart from that, he is known for doing business with such prominent western businessmen as Bill Gates, Rupert Murdoch and Michael Bloomberg.
He also received a western education, being awarded a bachelor's degree in business administration from Menlo College in California. The prince was also frequently seen with top western politicians and Wall Street executives, including Lloyd C. Blankfein, the chairman and CEO of Goldman Sachs, and even British royals.
He also had an extraordinary western media profile for a Saudi national and virtually became an unofficial public face of the Saudi kingdom finance in the West as he often gave interviews to various media. Most recently, he spoke to CNBC's Squawk Box and expressed serious doubts about the future of the Bitcoin cryptocurrency.
READ MORE: Bitcoin 'going to implode' like Enron – Saudi billionaire Alwaleed
Notably, the prince has somewhat controversial relations with US President Donald Trump. During Trump's election campaign, the Saudi multi-billionaire called him "a disgrace not only to the GOP but to all America" and called on him to withdraw from the presidential race, predicting that Trump "will never win." Still, later, he congratulated Trump on his election victory.
.@realDonaldTrumpYou are a disgrace not only to the GOP but to all America.Withdraw from the U.S presidential race as you will never win.

— الوليد بن طلال (@Alwaleed_Talal) December 11, 2015
In October 2017, he praised Trump's governing style and straight talking in an interview with CNBC. "President Trump has his own way of governing," he said at that time.
Alwaleed bin Talal, however, has long been a kind of outsider within the ruling elite of the ultraconservative Muslim kingdom – due to his liberal views and open advocacy of women's rights. He particularly hired a first Saudi female pilot for his jet at a time, when there was no prospect of women being allowed even to drive. At the same time, he has never openly opposed the ruling elite.
He also reportedly had no major differences with Crown Prince Mohammed bin Salman, who is now heading the committee that launched the crackdown on corruption. In October, bin Talal publicly declared his support for Mohammed bin Salman by telling CNBC that he fully backs the crown prince's reforms and had repeatedly expressed similar proposals concerning diversification of the Saudi economy for years.
With no official statement issued, the reasons behind Alwaleed bin Talal's arrest remain a mystery. However, it already prompted a reaction from the stock markets. Shares in his Kingdom Holding Co. fell by 7.5 percent in trading Sunday, despite the fact that the company announced profits amounting to 247.5 million riyals ($66 million) in the third quarter.
"This is going to cause some immediate apprehension in terms of investors looking at Saudi Arabia," Graham Griffiths, a senior analyst at Control Risks focusing on Saudi Arabia, told AP, referring to the crackdown. He also called Alwaleed bin Talal "someone who has been represented as a face of the kingdom, someone that a lot of people have done business with and are comfortable doing business with."
You can share this story on social media: