Missile display & Trump effigies burning: Tehran marks US Embassy takeover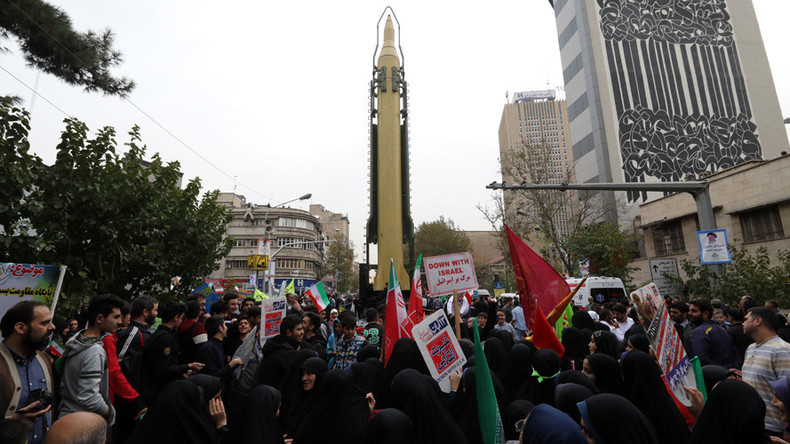 Thousands of Iranians gathered at the former US Embassy in Tehran to rally against US President Donald Trump's "crazy" policies and "global arrogance." A ballistic missile was put on display, as protesters burned American flags and effigies of Trump.
Above the crowd, banners could be seen reading "Down with the USA" and "Go to hell," with upside down images of the US president, Israel's Benjamin Netanyahu, and Saudi Arabia's King Salman.
"All the governments confirm that the American president is a crazy individual who is taking others toward the direction of suicide," Ali Shamkhani, secretary of the Supreme National Security Council, said, addressing the crowd. "Trump's policies against the people of Iran have brought them out into the streets today".
"And when a missile is tested thousands of kilometers away, after [issuing empty] threats, all their president does is put out a tweet," the secretary added.
A giant banner behind his back showed Donald Trump, and ran a quote from the Supreme leader of Iran, Ayatollah Khamenei: "The American elite feel ashamed of having such a president." A Ghadr ballistic missile with a range of 2,000 km (1,240 miles) was put on display at the demonstration.
On Satuday, Iran marked both the Student Day and the National Day against "Global Arrogance," which commemorate the 1979 US embassy takeover. Thirty eight years ago, student activists stormed the US diplomatic compound, taking 52 embassy staff hostage. The 444-day siege led the two nations cutting the ties, not having restored relations to this day.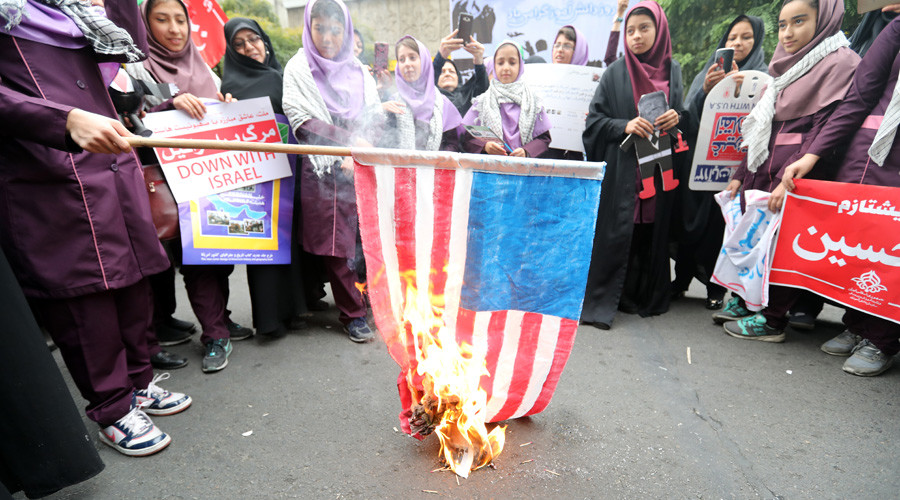 Tensions reached a boiling point, after president Trump refused to certify the Islamic Republic's compliance with the 2015 nuclear deal in mid-October. While the US leader repeatedly threatened to rip it up in the past, Tehran stated it wouldn't pull out of the agreement. Meanwhile, other signatories to the pact, including Russia, China, Germany, France and the UK, have all warned Trump against breaking up the deal.
READ MORE: Iran nuclear deal break-up would jeopardize global security, situation on Korean peninsula – Lavrov
In a recent remark, Iran's Supreme Leader Ayatollah Ali Khamenei called Washington Iran's "number one enemy," accusing it of "bullying" over the deal and "holding grudges" against "a tireless and resilient nation."
You can share this story on social media: