Colbert takes swipes at Madrid for 'restoring democracy' by 'jailing everyone people elected'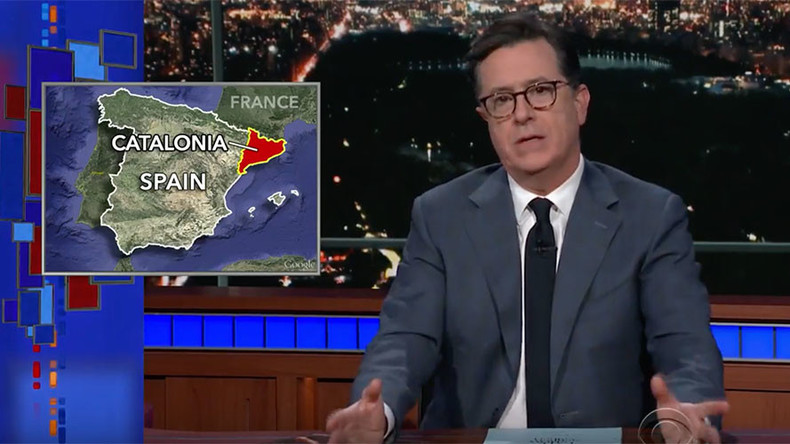 Late Show host Steven Colbert derided the Spanish government's handling of the Catalan crisis, in particular its decision to call snap elections to "restore democracy" amid a crackdown on the lawfully elected Catalan leaders.
In a segment titled, "Spaint' Misbehaving" Colbert had a go at Spanish Prime Minster Mariano Rajoy. In his signature tongue-in-cheek manner, the popular host mocked double standards the Spanish PM appears to apply when dealing with the deepening political crisis in the rebellious region.
"Spain has jailed eight of the top members of the Catalan government, issued an arrest warrant for its leader, who is in exile in Belgium. Meanwhile, the Prime Minister of Spain declared "I have decided to call free, clean and legal elections… [to] restore democracy," Colbert said. The Spanish government has called early elections in December to replace ousted Catalan officials, including the deposed President, Carles Puigdemont.
Read more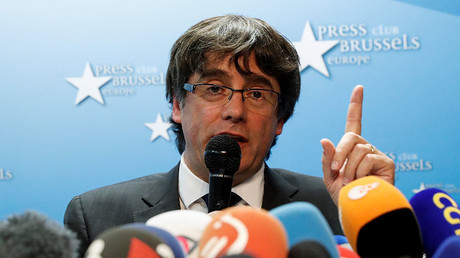 Puigdemont, who together with his former ministers, faces charges of sedition, rebellion, misuse of public funds and breaching of trust, is currently in Brussels. Madrid issued a European arrest warrant for him on Friday, which the Belgian prosecutors pledged to study.
On Thursday, seven ministers of Puigdemont's government, including ex-Vice President Oriol Junqueras, were jailed by the Spanish court, having being denied bail.
"Because nothing says democracy like jailing everyone the people elected," Colbert said, before giving a brief outline of Catalonia's history saying that Catalans are sick and tired of Madrid's dominance.
"Being under Spanish rule has chafed Catalans like spangly pants on a sweaty matador," he quipped.
The Catalans' hard feelings for Madrid are rooted in Catalonia being an "economic powerhouse that resents propping up the rest of Spain," Colbert said, arguing that the Catalans are "over-taxed and underrepresented."
READ MORE: Puigdemont, Catalan ministers turn up in Brussels as Madrid sues them for rebellion
With the US unlikely to intervene and bring democracy to Catalonia, the locals will have to take their own steps, Colbert said, for which they will need "courage, determination, and a lot of stupid wigs" as it was in the case with the American Revolution.
Read more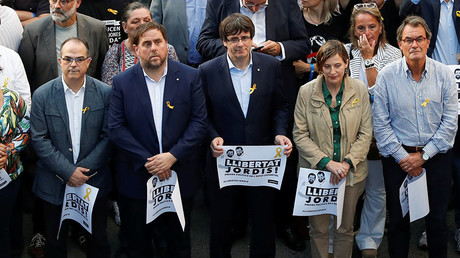 For inspiration, he suggested seeing the Broadway musical Hamilton, telling the story of one of the American Founder Father Alexander Hamilton, promoter of the US Constitution and the founder of the US financial system.
"You'll need a new constitution, your own banking system, a tax policy - you know what, screw it…Here's tickets to 'Hamilton.' It's really good!"
The decision to jail the Catalan leaders drew anger across Catalonia, sparking mass protests in from of the Parliament building in Barcelona and several other cities.
Puidgemont, meanwhile, insists his prompt departure to Belgium does not mean that he "fled" Catalonia, and says he is ready to participate in the newly-called elections, running a campaign from Belgium if needed.