Mysterious mass death of Baikal earless seals puzzles scientists (VIDEO)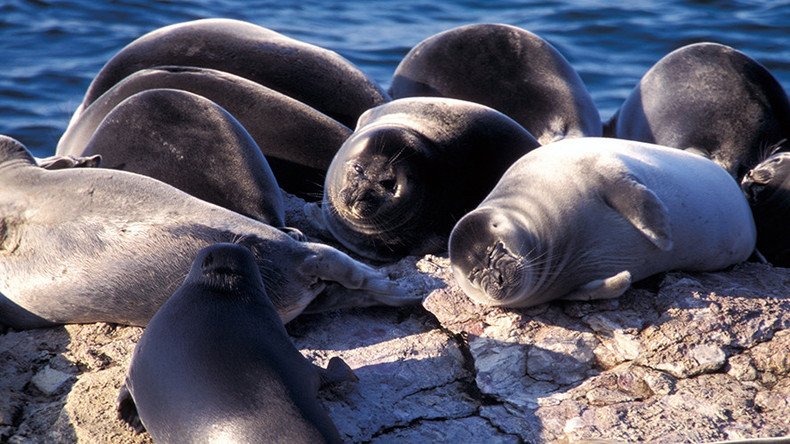 Dozens of dead Baikal earless seals have been found on the shores of the world's deepest lake in the last six days. While an epidemic has been ruled out, lab samples haven't shown conclusively what led to the mysterious mass deaths.
The government of the Siberian region of Irkutsk said that starting October29, the bodies of 141 dead Baikal earless seals had been recovered and a special commission to look into the causes of death had been launched. All the bodies belonged to adult animals, with 80 percent of them being pregnant females, the statement added. Initially, the Russian Environmental Ministry excluded the human factor, saying natural causes were to blame.
Lab research did not reveal any abnormality, infectious diseases or parasites in the 31 collected samples. To see whether toxins triggered the deaths, researchers will need to carry out a molecular probe.
Preliminary reports also speculated that starvation could have resulted in the mass deaths, Interfax reported, citing the region's environmental prosecutor. "The dead animals were starving – there was no food in their stomachs at the moment of the death," he said. "Locals say there are few fish in Baikal's south." Malnutrition could be due to a surge in the species' population, according to the prosecutor, who added it might be a natural mechanism to control the growth.
The theory was also echoed by the regional service for veterinary and phytosanitary surveillance, Rosselkhoznadzor. The autopsy showed the seals died because of heart failure caused by malnutrition, according to the service official Sergey Grokhotov.
Those traveling to Baikal witnessed harrowing scenes of dozens of dead animals strewn along the shore, meters from each other, local media reported. Meanwhile, some Baikal residents reportedly didn't hesitate to take the dead seals for valuable fat and fur.
The species' population is estimated at about 130,000 animals, the Environment Ministry says. Also known as nerpa, the Baikal earless seal is endemic to the Siberian lake, a UNESCO World Heritage Site. The freshwater lake is also home to thousands of native wildlife and plants.
You can share this story on social media: