US is #1 enemy, Iran will never yield to it – Supreme Leader Khamenei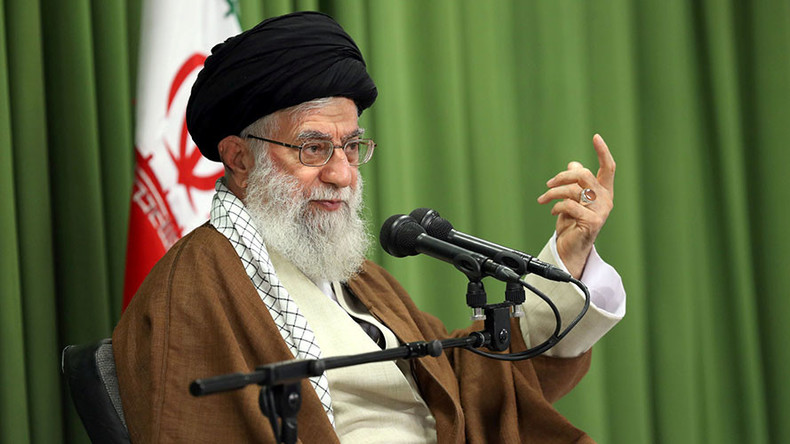 Iran will never give in to its "number one enemy," which "uses all the wickedness" to undermine the 2015 nuclear agreement, Ayatollah Ali Khamenei said in a statement. The broadside comes as US President Trump pushes ahead with his anti-Tehran policy.
"America is the number one enemy of our nation ... We will never accept their bullying over the nuclear deal," the supreme leader said Thursday, Reuters reports. "They are using all the wickedness to destroy the fruit of the nuclear talks," Khamenei added, referring to the pact, also known as the Joint Comprehensive Plan of Action (JCPOA), at a meeting with students in Tehran.
US hostility towards Iran "has blinded their calculation vision, leading them to repeat their mistakes," IRNA news agency quoted the supreme leader. Earlier this month, Trump decried the Islamic republic as "a terrorist nation like few others." Responding to that "foolish remark," Khamenei suggested the US "holds grudges and hostility toward the very existence of a tireless and resistant nation," according to Tasnim news agency.
After lambasting the agreement as the "worst deal ever" on numerous occasions, Trump proceeded with his disavowal by decertifying the agreement in mid-October despite Tehran complying with its terms. The US president referred the matter to Congress, opening a 60-day window for lawmakers to consider whether to re-introduce sanctions on Tehran, which were lifted as a part of the treaty. The move triggered a wave of criticism from other signatories of the 2015 deal, including Russia, China, France, Germany and Britain. For its part, the Iranian government reiterated that it would stick to the pact, adding that it cannot be amended or renegotiated.
READ MORE: Trump decertifies Iran nuclear deal, imposes 'tough sanctions' on Revolutionary Guard Corps
"We oppose any unilateral change in the multilateral nuclear deal," Russian President Vladimir Putin told Khamenei on Wednesday. Earlier, Foreign Minister Sergey Lavrov sounded similar concerns, saying that "restoring the UN Security Council sanctions [on Iran] is out of the question."
Previously, Lavrov said it was "illegitimate" to bring "unilateral sanctions" in addition to the UNSC penalties after the US introduced a new batch of restrictions against Iran in September. Another round of restrictions followed in October, targeting the Iranian Revolutionary Guard Corps, labeled a terrorist organization by the US.
READ MORE: Iran nuclear deal break-up would jeopardize global security, situation on Korean peninsula – Lavrov
You can share this story on social media: