Putin visits Iran, praises joint efforts in solving regional issues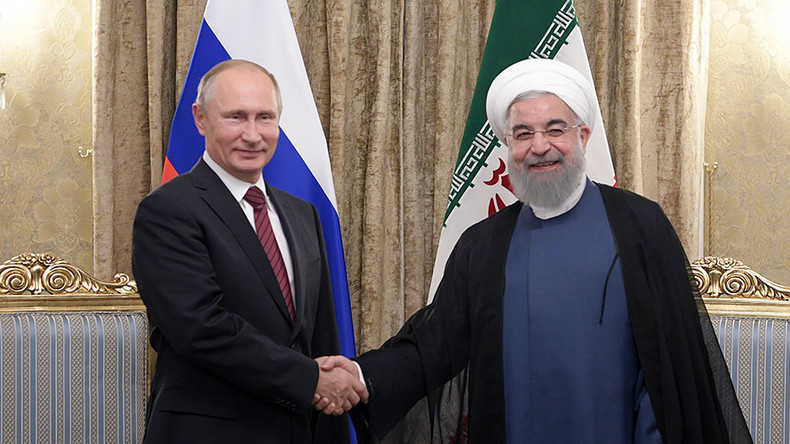 Russian President Vladimir Putin has visited the Iranian capital, Tehran, attending a trilateral summit with the leaders of Iran and Azerbaijan. Commenting on a number of joint projects between the nations, Putin especially stressed the importance of cooperation to provide security in the Middle East.
"Thanks to our joint efforts, and also with the participation of Turkey, the situation in Syria has been developing positively," Putin said at a press conference in Tehran on Wednesday.
The president pointed out that Iran and Russia have contributed to not only fighting terrorism in Syria, but have been successfully involved in a peaceful negotiations process to solve the crisis, having paved the way for political settlement in the war-torn country.
Tehran and Moscow "have been working productively and managed to coordinate positions on the issue," Putin said.
The entire region's security was on the summit's agenda. Following the talks, the three nations issued a joint statement on another pointed issue in the Middle East: the Iranian nuclear deal. Having once again stressed the importance of the deal on Tehran's nuclear program reached by world powers in 2015, the statement said the agreement is "an effective example" showing how international efforts can solve a major issue.
The document, signed by Putin and the presidents of Iran and Azerbaijan, Hassan Rouhani and Ilham Aliyev, respectively, calls on all UN member states to facilitate the adherence of all sides to the long-sought agreement.
READ MORE: 'We don't need you on this': Trump says US can pressure Iran without EU's help

The three nations, all of which are among major hydrocarbon producers, have also agreed to further develop cooperation in many spheres, having reached agreements to simplify their trade relations in particular. A plan to create a green customs channel has been adopted, and there have been talks on the possibility of payments in national currencies, Rouhani told the media.