Iranian missiles have enough range to strike US targets – Revolutionary Guard chief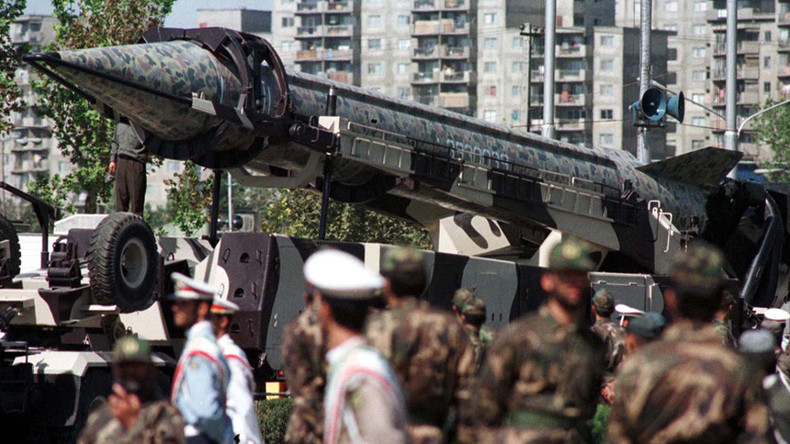 Iran has limited its ballistic missile range to 2,000 kilometers, which it says is enough to strike the US and its interests, should they need to retaliate for an attack.
"Based on the policies specified by the Leader [Ayatollah Khamenei], the range of our missiles is limited to 2,000 kilometers," Revolutionary Guard Corps Gen. Mohammad Ali Jafari said Tuesday, according to the Fars news agency, adding that this range is "sufficient" to respond to any attacks from the US.
"Americans, their forces and their interests are situated within a 2,000-kilometer radius around us and we are able to respond to any possible desperate attack by them," he added, as quoted by AP.
Jafari's comments come as the US Treasury expanded sanctions against Iran's Revolutionary Guard Corps on Tuesday for allegedly "supporting terrorism."
The sanctions apply to the IRGC Air Force, the Al-Ghadir Missile Command, the Aerospace Force Self Sufficiency Jihad Organization and the Research and Self-Sufficiency Jihad Organization, along with Jafari himself and four senior officers.
"The Americans fear the consequences of war with Iran and know that if such a war starts, they will lose and therefore, they are [trying to land] a blow [on] the Islamic Republic through soft war and economic pressure," Jafari told reporters at the "World Without Terror" conference in Tehran.
The sanctions were first imposed October 13 and came after Trump decided not to certify Iran's compliance with the 2015 nuclear deal despite the agreement's other signatories (China, France, Russia, the UK and Germany) doing so.
Iran's missile program is not included under the terms of the nuclear deal, but Congress voted to impose sanctions against the missile program last week.
Jafari went on to say he didn't think a war between the US and Iran was likely. "They know that if they begin a war between Iran and the United States, they will definitely be the main losers and their victory will by no means be guaranteed," he said. "Therefore, they won't start a war."
Jafari's comments are the first acknowledgement that Ayatollah Ali Khamenei has limited the country's ballistic missile program, and are seen as way to portray its missile capabilities in contrast with those of North Korea, which boasts intercontinental abilities and has recently fire-tested its ballistic missiles over Japan.
With a 2,000 kilometer limit, Iran's missiles could still easily reach targets in the Middle East, such as Israel. The US has thousands of troops stationed around the Middle East.